Paal op Stelten 2004 pictures
by wim
Lasgo's Evi was on stage at Paal op Stelten 2004. After a great performance of Something, Pray and Surrender, she told us that the new album will be released on September 1st. But it's not finished yet, that's probably the reason why Peter and Dave weren't there.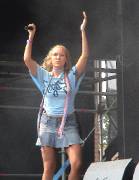 Zippora was also one of the many dance artists, she performed Lotus Eater, See The Sun and Luminous & Beautiful. She will release another song in a few months. She couldn't tell us the name of the song yet, but only that it's a cover of big hit.
Milk Inc. and Sylver were also on stage at Paal. It was a special duo show, but without Wout. Milk Inc. performed Time, Never Again, after these songs, they performed I Don't Care together with Silvy. It was Silvy's turn to sing with Why Worry and Living My Life. The last song was Breathe Without You, also together with Silvy.
Other dance artist on stage were Jessy, Orion Too, DHT and Kate Ryan.
Check out our Paal op Stelten 2004 pictures!
Welcome !
to DanceVibes, the site dedicated to belgian electronic music. We bring you daily updates on all that is happening in the dance scene.
more about dancevibes.be
Cool sites
Check out these sites:
Archives
Not so fresh news: