2 years Partysan presents 'La Familia'
by wim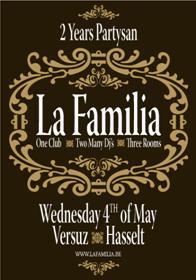 Partysan-magazine celebrates it's 2nd anniversary in Italian maffiastyle… as it'll organize a big Italian-maffiastyle family party in Club Versuz on May 4th.
National and international djees like DJ Ghost, Dave McCullen (Bitch, Lasgo), Den Hétrix (Club Industria), Prinz (Café D'anvers), Philip (La Rocca), Dave Lambert (Versuz) and Sharam Jey (live electroset) will be your host at the party.
Welcome !
to DanceVibes, the site dedicated to belgian electronic music. We bring you daily updates on all that is happening in the dance scene.
more about dancevibes.be
Cool sites
Check out these sites:
Archives
Not so fresh news: