Vive La Fête – news news news …
by stea
What has Vive La Fête, one of Belgium's most original bands, been up to lately? Dancevibes.be has prepared an overview …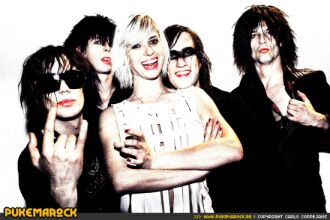 Do you associate Vive La Fête with breakcore ? Probably not, but this might change that : VIVE LE MASH-UP ! Sickboy's version of Nuit Blanche Sickboy has destructed and reaminmated the glamour of Vive La Fête to the full maximum : Speed-up, pitchbended and verbaly reschedualed.
The A-side "Viva El Party" stands for a ripped version on "Nuit Blanche" while side B "I Like To Sing Français (chainsaw harcore mix)" takes you even further away from what used to be romantic electropop.
New standards are set, breaks and darkness take over and pound their way into unsuspected formations. This special edition is in collaboration with an exclusive artwork poster by Dennis Tyfus and is limited to 750 copies, each indiviually numbered so be quick and start jumpin'!" It'll be released on December 13th on the Lowlands label Surprise.
Vive La Fête takes on Scandinavia. After playing sold-out concerts in The Netherlands, gigs on 3FM and Kink FM, Vive La Fête went to Scandinavia last week (Danmark, Sweden, Norway). Vive La Fête did 6 concerts in 6 days time.
SCANDINAVIA TOUR
Mon 29 Nov – Vox Hall / Aarhus (DK)
Tue 30 Nov – Loppen / Copenhague (DK)
Wed 1 Dec – KB / Malmo (S)
Thu 2 Dec – Kagelbanan / Stockholm (S)
Fri 3 Dec – Pusterviksbaren / Gotheborg (S)
Sat 4 Dec – Betong / Oslo (N)
These are the tourdates for the end of the year:
Welcome !
to DanceVibes, the site dedicated to belgian electronic music. We bring you daily updates on all that is happening in the dance scene.
more about dancevibes.be
Cool sites
Check out these sites:
Archives
Not so fresh news: