VERSUZ New Club Tradition vol. 4
by wim
VERSUZ New Club Tradition vol. 4 will be released on April 26th. This compilation double CD from Club Versuz contains the newest and some exclusive tracks like eg. NARCOTIC THRUST – I Like It ( A Pete Tong favourite and yet unreleased in Benelux), RIVA – Run Away, SKYLARK – That's More Like It, ARMIN VAN BUUREN – BLUE FEAR 2003 (Still unreleased…)
Volume 4 also contains some groovy Belgian club tracks: HATRIX – pressure (in an exclusive VERSUZ remix by Hatrix himself!), Red Carpet – Alright (Den Hétrix & Raffa Mix) and Verheyen & Vanvaeck – Y.a.b!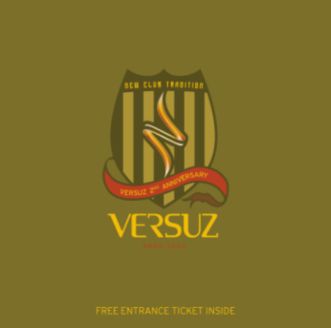 The complete tracklisting is as follows:
CD1: Mixed by DJ DAVE LAMBERT
Skylark – That's More Like It
Peter Katafalk – Down & Out (Maskio Thriller Remix)
Verheyen & Vanvaeck – Y.a.b
Narcotic Thrust – I Like It (Dub Mix)
Gipsy – Gipsy (UK Club Mix)
Altar – Sexercise (Funky Junction & Splash Funk-Remix)
Obersoundz – I Wanna Be With You (La Comitiva Club Mix)
Benny Benassi – Love Is Gonna Save Us
Mojado feat. Mr. Sam – Naranja (Dimitri Andreas Vision)
Riva – Run Away
Oliver – Future
20HZ – Capricorn
Locodice – Phat Dope Shit (Saeed's Shit Base Remix)
Alex Dolby – Psiko Garden
AVUS – Real
CD2: Mixed by DJ BART MAES
Red Carpet – Alright (Den Hétrix & Raffa Mix)
Sandy Rivera – Dreams
Scuba feat. Dr. Kucho!, Gregor Salto & Camiel – Tonight (Madrid Goes Wild Remix)
WAWA – No Problem (Dub Mix)
Par-T-One vs INXS – I'm So Crazy
Hatrixx – Pressure (Exclusive Versuz Mix)
Traffic Signs – The Big Fake
Saiko-Pod – Groove Moderator (Miro Mix)
M.A.N.D.Y. & The Sunsetpeople – Knock On
Orielle – All I Know" (4tune 500 Remix)
Origene – Sanctuary (Harry Lemon Remix)
Armin Van Buuren – Blue Fear 2003
DJ Linus – Flokati
Paolo Barbato vs Nick Tonut – Nothing New
Unkle – In A State (Sasha Remix)
Welcome !
to DanceVibes, the site dedicated to belgian electronic music. We bring you daily updates on all that is happening in the dance scene.
more about dancevibes.be
Cool sites
Check out these sites:
Archives
Not so fresh news: