Versuz "Gold Silk" vol.5 compilation to hit the stores next week
by wim
The Versuz "Gold Silk" vol.5 compilation is on its way to the stores! Again Club Versuz provides us with a diverse mix of the new club hits.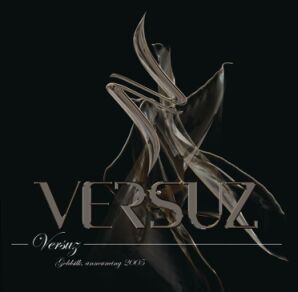 The tracklisting is as follows:
CD1 Mixed by DJ Dave Lambert:
Armand Van Helden – MyMyMy (Original Mix)
Gadjo – So Many Times (Steve Angello's Moody Remix)
Ericke – Midnight Magic
Mendo & Chab – Afrofunfunk (Orignal Image Mix)
Ernest Saint Laurent – Do Ya Dub (Original)
Stefan Polland & C. Mauro – Indian Preach (Original Mix)
Alter Ego – Rocker
Spektrum – Kinda New (Tiefschwarz Dub)
Locodice – Cellar Door
Deux – Sun Rising Up (Dub Mix)
Dave Lambert – Yeah (Demo mix)
Eric Prydz – Call On Me (Redkult Dubpass 2 Rmx)
Hi Fashion Feat Maria Lawson – Watcha Gonna Do (Club Mix)
Mark Knight & Martijn Ten Velden – Piano Test
Wally Lopez – Voila (Fafa Monteco Remix)
COCA + VILLA feat Pepe Rubio – La Noche
CD2 Mixed by DJ Bart Maes:
1. Jamie Anderson – Time Is Now (Original Mix)
Satellite Love – What You Do (Extended Love Mix)
J:Sonic feat. Jon Fitz & Abigail Bailey – Release The Pressure (2Risque Mix)
ESP – Yes I'm Dancin'
Shapeshifters – Lola's Theme (Victor Calderone Vocal Remix)
Emanuele Ingelese vs D. Lewis & Emix Saxtronic – Love part 2
Wally Lopez & David Ferrero – Going Insane (Original)
Syntax – Love Song
Linus Loves – Night Music
Dave Mc Cullen – B*tch
Phunk Electric feat P.T. – Red Hot (Electro Mix)
Anarcrusan – In My MInd (m.a.s Acradia Mix)
SLAM feat. Ann Saunderson – Lie To Me (Dave Clarcke Remix)
Florida Inc. – I Need Your Lovin' (Ibiza Club Mix)
Interesting Belgian tracks include Dave Lambert – Yeah (Demo mix) (Dave's first production!) and Dave Mc Cullen – B*tch.
Be sure to also check out our review of the Versuz 4 compilation Cd
Welcome !
to DanceVibes, the site dedicated to belgian electronic music. We bring you daily updates on all that is happening in the dance scene.
more about dancevibes.be
Cool sites
Check out these sites:
Archives
Not so fresh news: