VERSUZ – First Floor Finest Vol 1 compilation
by wim
Versuz is Belgium's largest purpose built venue, boasting a maximum capacity of 6000 people. Versuz opened in April 2002 and put Belgium on the map for a more 'disco-shaped' reason.
On Saturday nights, the resident DJ's Phil, Dave Lambert (Minimalistix) and Bart Maes pump the crowd full of Club, Trance, Tribal and Progressive House sounds with Groovy tunes thrown in for good measure.
The monday nights with the resident DJ Laurent brings you the crème de la crème of Happy Grooves, Top 50 and 'Oldies but Goodies.
The mainroom with a capacity of 4500 is not the only room and sound that Versuz has to offer. In the R versuz B lounge it brings the best what R'N'B has to offer and in Café Rouge you'll hear great party anthems and 80's styled music.
The first Versuz compilation is a double CD. Disc One is a Track by Track selection, and Disc Two is a Mixed CD by the resident Dave Lambert (Minimalistix) Both cd's are compiled by the 3 Saturday residents Phill, Dave Lambert (Minimalistix) and Bart Maes.
This compilation tries to be different as it's aiming to bring 'Clubbers' of all sorts together, from Trance Lovers to Groovy Folks.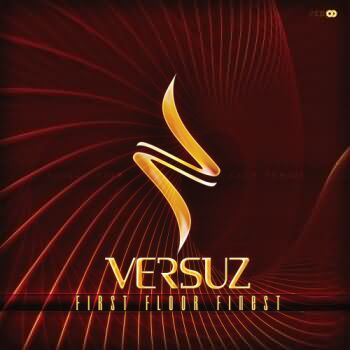 CD1: Unmixed First Floor Finest
G Club presents Banda Sonora – Guitara G' (Original Chill Out mix)
Shakedown – At Night (Mousse T Feelgood remix)
Layo & Bushwacka – Love Story (Tim Deluxe remix)
Moony – Dove (I'll Be Loving You) (T&F vs Moltosugo Club mix)
Bolz Bolz – Take A Walk (Neo-Romantic Dima remix)
Thick Dick – Welcome To The Jungle (Original mix)
Marascia presents The Rumbar – A Bailar Mi Gente (Kortezman Version)
Boca – Miami (Silvio Ecomo mix)
DJ Tiësto – In My Memory (Airwave remix)
Flesh & Bones – My Time Has Come (Original mix)
Marco V – Simulated (Original mix)
Decoy & Roy – Innerlife (Radio Edit)
Jaimy & Kenny D – Keep On Touchin' Me (Erick Morillo edit)
Felix The House Cat – What Does It Feel Like (Royksopp Return To The Sun remix)
Hatrix & Galliard – One Day (Original @ The Beach)
CD2: Mixed by Minimalistix DJ Dave Lambert
Tim Deluxe feat. Sam Obernik – It Just Won't Do (Dub mix)
Magestic 12 – Funkin' Together (Original mix)
Ibiza Groovers – Cult Feel (Fonky Dub mix)
D*Note – Shed My Skin (Mr. Sam's One Night In San Francisco remix)
Three Drives – Carrera 2 (Original mix)
Solar Stone – Solarcoaster (Original mix)
Antiloop – In My Mind (Hiver & Hammer remix)
DJ Tiësto – Flight 643 (Original mix)
Ferry Corsten – Punk (Original mix)
Rank 1 – Awakening (Original mix)
Minimalistix – Magic Fly (Brian Koner remix)
Solid Sessions feat. Pronti & Kalmani – Janeiro (Armin Van Buuren remix)
4 Strings – Diving (Minimalistix vocal mix)
Ralphie B – Massive (Filterheadz remix)
Miro – Spaceman (Dan Maize remix)
Welcome !
to DanceVibes, the site dedicated to belgian electronic music. We bring you daily updates on all that is happening in the dance scene.
more about dancevibes.be
Archives
Not so fresh news: