Trance 'n' Dance volume 4
by wim
This cd is mixed by Flesh & Bones (Regi Penxten & Wout Van Dessel) who are currently @ no.14 in the Ultratop Single Charts with their hit My Time Has Come!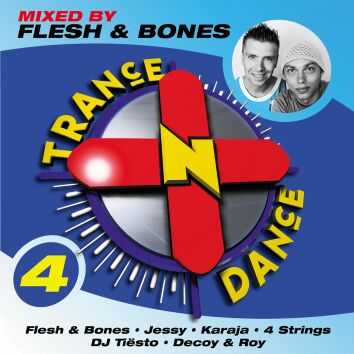 Trance 'N' Trance is a radioshow by Regi Penxten and is hosted on more than 40 radiostations in Belgium! The show features all the latest topics and releases in clubland! A burning red hot show…and a cd release to match!
Flesh & Bones – My time has come
Orion too feat. Caitlin – So shy
Karaja – She moves (la la la)
Lizz' Parker – Foolish in love
Decoy & Roy – Innerlife
Solid Sessions – Janeiro
P.M.W. – Reactivate
Jessy – Look at me now
4 Strings – Diving
Zippora – Time stood still
Prism – Edge of heaven
Madelyne – Beautiful child
Alive feat. DD Klein – Alive
Drum Guru – Jaguar car
Raven Maize – Fascinated
DJ Ghost – Iss this techno
Scream – no idea
Da Boy Tommie – Dead people
Cygnus X – Positron
DJ Tiësto – In my memory
Sunscreem – Perfect motion
Welcome !
to DanceVibes, the site dedicated to belgian electronic music. We bring you daily updates on all that is happening in the dance scene.
more about dancevibes.be
Cool sites
Check out these sites:
Archives
Not so fresh news: