Topradio: the Partystation Volume 2
by wim
Released next week (23/06) is a new compilation CD of the well known Belgian danceradio Topradio (27 frequencies and via internet streaming on mms://broadcast.ion-ip.be/topradio !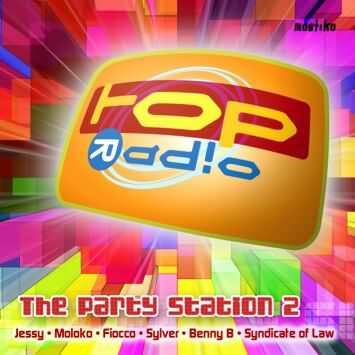 On the tracklisting you can find a lot of exclusive tracks that haven't been released on CD before:
Jingle the partystation Topradio
Benny Benassi presents 'The Bizz' – Satisfaction
Tomkraft – Loneliness (Benny Benassi remix)
Fiocco – Afflito 2003
D-Noizer feat. DJ Ronald & E-Max – Friday's Session
Robert Armani – Fire Alarm (Dj Ba Back remix)
DJ Rebel – Galactica
Mark with A K – I am Stronger
The Moon – Under Attack
? – Supersonic
Armani & Ghost – Funk That
Minimalistix – Magic Fly (PPK remix)
Jessy – Head Over Heels (ElektroKid remix pt.1)
Syndicate Of Law – Right On Time
Eclipse – I Am Stronger
Sylver – Why Worry (Den Hétrix remix)
Noso Project feat. Patsy – I Can't Sleep
Dino Lenny vs The Housemartins – Change The World
Mnc – Pick Me Up
Klubfilter – Come With Me
Moloko – Forever more (Francois K vocal remix)
Jingle De beste grooves, Topradio altijd en overal!
Keep visiting dancevibes.be as we'll soon launch a contest about the Topradio CD!
Welcome !
to DanceVibes, the site dedicated to belgian electronic music. We bring you daily updates on all that is happening in the dance scene.
more about dancevibes.be
Cool sites
Check out these sites:
Archives
Not so fresh news: