Tip: Papaya La Rocca
by wim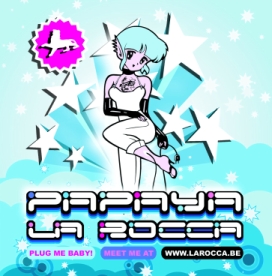 La Rocca's partyconcept Papaya released its first compilation CD last year. If you like dark progressive beats you'll be pleased to know we're giving away 3 CDs! Don't wait as only the first 3 emails will receive the CD!
Tracklisting:
Booka Shade – Trespass
James Mowbray & D. Ramires – I Shoose Anger (H-man Rmx)
Pig & Dan – Four Leaf Clover
Ada – Call the Tune
Osis – Domino (Speicher 34)
Martin Landsky – 1000 Miles
Rodamaal ft. Claudia France – Insomnia (Ame Rmx)
Copyright ft. Song Williamsen – He is (Ferrer & Sydenham Inc Vox Mix)
Wally Lopez, Rene Amesz & Peter Gelderblom – Strike Me Down
Dave Lambert – House in Play
DJ Philip vs. E. Delvine – Touch Faith
Francesce Diaz & Young Rebels – Ibiza
Manole Fortezza – Duo
J. Velarde – Assymetric
Kris Menace – Jupiter
Welcome !
to DanceVibes, the site dedicated to belgian electronic music. We bring you daily updates on all that is happening in the dance scene.
more about dancevibes.be
Cool sites
Check out these sites:
Archives
Not so fresh news: