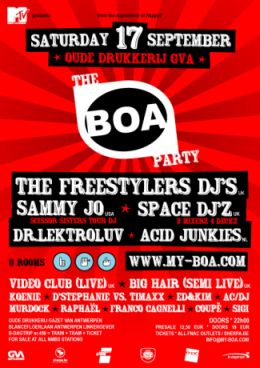 On September 17th, The Boa Party will take place in the old printing offices of Gazet Van Antwerpen. This concept combines young talent with well known DJs like The Freestylers dj, Dr. Lektroluv, Sammy Jo (Sisscor sisters tour dj), Acid Junkies, Space Dj, The Video Club, Big Hair, Rapha, Koenie and Ed & Kim.
Bus transport is provided between 00h20 an 08h00 to/from Fr. Roosefeldplaats and the old printing offices.
Presale at all FNAC stores and Sherpa for 12,5 euro
Welcome !
to DanceVibes, the site dedicated to belgian electronic music. We bring you daily updates on all that is happening in the dance scene.
more about dancevibes.be
Cool sites
Check out these sites:
Archives
Not so fresh news: