Real Retro House Classix Vol. 5
by wim
The 5th edition of the Real Retro House Classix(Roadrunner/Arcade) is released.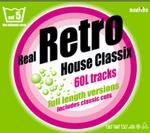 Track listing (among others):
Faithless – Insomnia
Snap – Rhythm is a dancer
Ramirez – Orgasmico
ROOS – Instant moments
Commander – TomAre am eye (YDR remix)
Marco Bailey – This is my groove
CLS – Can you feel it
Nuke – Na na
Robert Armani – Circus bells
Ron Trent – Altered states
Speedy J – Something for your mind
Felix – It will make me crazy
Usura – Open your mind
Digital Boy – Kokko
De Bos – On the run
T99 – Anastasia
Secchi ft Orlando Johnson – I say yeah
Monotone ft L.A.Work – Monotone
Dancevibes will also give away 3 of these terrific cds very soon. So keep an eye on the site and maybe you are the lucky one!
Welcome !
to DanceVibes, the site dedicated to belgian electronic music. We bring you daily updates on all that is happening in the dance scene.
more about dancevibes.be
Cool sites
Check out these sites:
Archives
Not so fresh news: