VAD and "De Druglijn"(the Drugline) have launched a new campaign called PARTYWISE. They want to make clear that you can go out and have fun, without using any drugs. The center of the campaign is their website. They want to reach the people who go out a lot and especially the ones who love dancemusic.
The following 3 months, the Partywise promoteam will show up in the Flemish and Brussels nightlife.
On their site, www.partywise.be you can find a lot of info about this initiative. Browse through the site, like "Know how – to partywise" and "Go out – party maximiser". Here you can find some usefull tips from VIPs from the nightlife.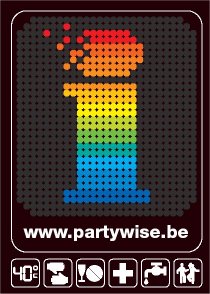 Welcome !
to DanceVibes, the site dedicated to belgian electronic music. We bring you daily updates on all that is happening in the dance scene.
more about dancevibes.be
Cool sites
Check out these sites:
Archives
Not so fresh news: