NRJ Extravadance 19 out now!
by wim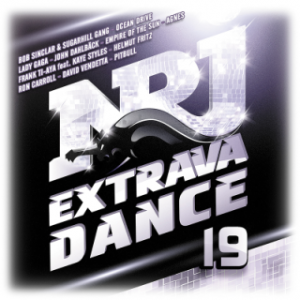 Extravadance is the popular weekly dance show on Belgian radio station NRJ. The successful compilation series is a reflection of the best groove & electro music in the mix.
This 19th edition contains a lot of present and future hit singles incl. Lady Gaga, Bob Sinclar, Paul & Fritz Kalkbrenner, Axwell, Emire of the sun and many more… The new release of Frank Ti-Aya feat. Kaye Styles 'Freedom' is also included. Frank Ti-Aya is also known as the producer of the massive hit 'Summerjam 2003' by the Underdog Project!
Check the read more link below to view the tracklisting!
TRACKLISTING
bob sinclar & sugarhill gang – lala song
ocean drive feat. dj oriska – some people
lady gaga – poker face (dave audé remix)
axwell/ingrosso/angello/laidback luke feat. deborah cox – leave the world behind
empire of the sun – walking on a dream (van she tech remix)
paul & fritz kalkbrenner – sky and sand
pitbull – i know you want me (calle ocho)
agnes – release me (robert abigail remix)
frank ti-aya feat. kaye styles – freedom
helmut fritz – ça m'énerve
dr. kucho! – groover's delight
ron carroll & superfunk – lucky star 2009 (ron carroll 4da radio mix)
chris lake feat. nastala – if you knew
chuckie – aftershock (can't fight the feeling)
angellisa – hard to breathe
kevin bryant – who you wanna be (bob sinclar remix)
david vendetta & barbara tucker – anticipation (bart b more remix)
arno cost – cyan
john dahlbäck feat. basto! – out there (dim chris remix)
desaparecidos vs walter master j – ibiza (marchesini & farina remix)
the face vs mark brown & adam shaw – needin u
hatiras & mc flipside – open up your eyes
groovewatchers – sexy girl
morjac & fred falke feat. sarah tyler – when we're together (d.o.n.s. remix)
Welcome !
to DanceVibes, the site dedicated to belgian electronic music. We bring you daily updates on all that is happening in the dance scene.
more about dancevibes.be
Cool sites
Check out these sites:
Archives
Not so fresh news: