Mixmania 2004-03 compilation cd contest
by wim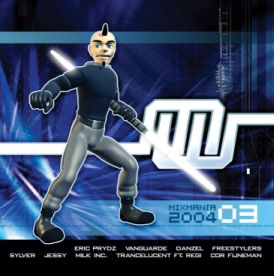 Mixmania 2004-03 compilation cd contains all the current and future biggest dance hits in the mix.
Eric Prydz – Call on me
Vanguarde – Gimme! Gimme! Gimme! (A man after midnight)
Benassi Bros. Feat. Dhany – Hit my heart
Freestylers – Push up
Danzel – You are all of that
Cor Fijneman ft. Romy – Don't break my heart (outstanding mix)
Sylver – Love is an angel
Jessy – Silent tears
Ferry Corsten – It's time
Milk Inc. – Whisper
DJ Wout – Mastermind (Mike Koglin remix)
Motu – Visual drive (Visionary mix)
Jan Vervloet – Pure
Trancelucent ft. Regi – Lonely
4 Strings – Turn it around
B1C – Naughty girl
Peter Luts ft. Nivelle – Don't go
Verheyen & Vanvaeck – Y.A.B.
Benny Benassi pres. The Biz – Love is gonna save us
Amuka – Appreciate me
DJ F.R.A.N.K. – NU NU (club mix)
Spankox – To the club (Highpass club mix)
Angel City – Touch me
Stellar project – Get up, stand up (Phunk investigation club mix)
Shapeshifters – Lola's theme
Junior Jack – Stupidisco
Muttonheads – To you
Ruff & Jam – Another day (Can't let go)
Aquapura – 17
Despina Vandi – Opa opa
We can now give away 3 compilation CD's! Check our contests page for more info!
Welcome !
to DanceVibes, the site dedicated to belgian electronic music. We bring you daily updates on all that is happening in the dance scene.
more about dancevibes.be
Cool sites
Check out these sites:
Archives
Not so fresh news: