Ian Van Dahl – Lost and Found album release party in Club Versuz (Hasselt)
by wim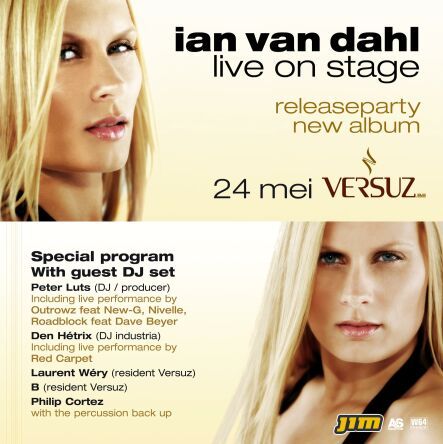 On Monday May 24th, Ian Van Dahl will present their new album Lost & Found in Club Versuz (in Hasselt)!
Annemie will bring a selection of new songs and offcourse the well known Ian Van Dahl hits. The show will feature 8 dancers and live percussion with Philip Cortez. Lost & Found contains a mixture of musicstyles: from progressive to crossover, from ballad to dancefloorfillers.
That's not all, DJ Peter Luts (well known producer of Lasgo and Ian Van Dahl) will bring us a DJ set ranging from progressive to mainstream trance. During his set 3 new projects will be presented:
Roadblock ft Dave Beyer, a new project by Peter and David with the Dutch singer Dave Beyer will present the clubtrack About a Girl. Outrowz ft New-G is another new project by Peter Luts and DJ CéCém. The track Wrong is sung by New-G (vocals & lyrics were written by Annemie). Nivelle – Don't go will be released on the Peter Luts Nitrox label
Next in the line-up is DJ Den Hétrix from Club Industria which will bring a house/groove DJ set. Together with Raf Brescia, he's also the producer of Sweet Coffee and Red Carpet (the track Alright is a personal favourite!)… Red Carpet will also be presented!
DJ Laurent Wéry and DJ B, Versuz residents, will finish the night and with their selection of R&B, pop, trance, groovy and sexy tunes make sure you'll not be home early … 🙂
We are very proud to be able to give away 10×2 duotickets for this special event! Check out our contests page for more information!
Welcome !
to DanceVibes, the site dedicated to belgian electronic music. We bring you daily updates on all that is happening in the dance scene.
more about dancevibes.be
Archives
Not so fresh news: