Heaven – Deep Trance Essentials
by wim
Belgian recordlabel N.E.W.S has a new compilation cd in stores (as from April 7th)! "Heaven – Deep Trance Essentials" is a 2cd digipack including the essential long versions of the best contemporary deep trance featuring Delerium, Sasha, Dj Tiësto, Libra, Jan Johnston, BT, Satoshi Tomiie, Brother Brown and many more! It's an ultimate collection of the best vocal and instrumental deep trance tracks. The success of this genre has been rising the last few years.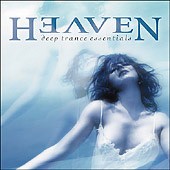 This is the full tracklisting:
CD1
1. Bt – remember (bt's album mix)
2. Delerium – silence (fade's sanctuary mix)
3. Ghostland feat. Sinéad O'connor & Natacha Atlas – guide me god (mr sam's spiritual son of god vocal remix)
4. Holden and Thompson – nothing (93 returning mix)
5. 16b feat. Morel – escape (driving to heaven) (omid's full vocal mix)
6. Sasha – xpander
7. Cass & Slide – perception (new vocal mix)
8. Bedrock – heaven scent (original mix)
9. Libra presents Taylor – calling your name (ferry corsten remix)
CD2
1. Dj Tiësto feat. nicola hitchcock of mandalay – in my memory (fade's sanctuary mix)
2. Lustral – everytime (original nalin & kane remix)
3. Brother Brown feat. Frank'ee – under the water (brother brown club mix)
4. Satoshi Tomiie feat. Kelli Ali – love in traffic (satoshi tomiie dark-path)
5. Dave Swayze – yasmine's garden
6. Jan Johnston – flesh 2002 (noel sanger's 5am repo mix)
7. Andain – summer calling (josh gabriel mix)
8. Way out West feat. Tricia Lee Kelshall – mindcircus (gabriel & dresden club mix)
9. Chris Raven – i know you love me too! (van bellen remix)
Welcome !
to DanceVibes, the site dedicated to belgian electronic music. We bring you daily updates on all that is happening in the dance scene.
more about dancevibes.be
Cool sites
Check out these sites:
Archives
Not so fresh news: