Electro Baby compilation CD
by wim
Especially for all electro lovers out there, Mostiko released a 2CD compilation CD with tracks from eg. Moloko, Jean Jacques Smoothie, Roxane, Biba Binoche, Felix Da Housecat, Junkie XL and many more.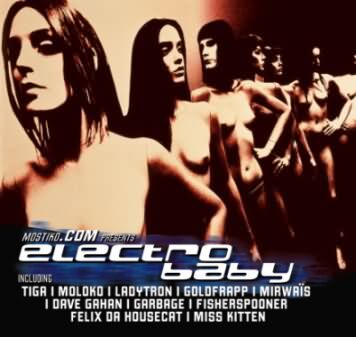 CD 1
Tiga – Hot in Herre
Moloko – Forever More
Goldfrapp – Train
Vive la Fête – Touche pas
Fisherspooner – Emerge
Zoot Woman – It's Automatic
The Dysfunctional Psychedelic Waltons – Payback Time
Placebo – Pure Morning
Golden Boy with Miss Kittin – Rippin Kitten
JCA – I begin to Wonder
Roxane – Fashion
Green Velvet – Genedefekt
Massive Lust – Never
Jean Jacques Smoothie – 2 People
Biba Binoche – Si Douce
Bhopal – Sound of Mourning
CD2
Ladytron – Blue Jeans
Andrea Dorio – Bucci Bag
Benny Benassi presents The Biz – Satisfaction
Mirwaïs – Naïve Song
Felix Da Housecat – Madame Hollywood
Dave Gahan – Dirty Sticky Floors
Junkie XL ft. Gary Numan – Angels
Garbage – Androgyny
DJ Spud – Set It Off
Tomcraft – Loneliness
Tiga & Zyntherius – Sunglasses at Night
Simi Nah – Je joue le jeu inGénu
Welcome !
to DanceVibes, the site dedicated to belgian electronic music. We bring you daily updates on all that is happening in the dance scene.
more about dancevibes.be
Cool sites
Check out these sites:
Archives
Not so fresh news: