City Parade 2005 news
by wim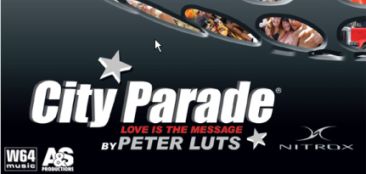 As we already reported, this year the City Parade goes back to its roots. Started in 2001 by Claude Van Cools en Ricardo Sola, Liège will this year again be host for the biggest dance event in Belgium.
The Belgian City Parade 2005 has been officially added to the 175-25 festivities (celebrating 175 years Belgium and 25 year federation based government). Dr. Motte, the father of the Love Parade will be present on the City Parade as unfortunately this years Love Parade has been canceled due to lack of official German sponsoring.
On Saturday June 25th at 12:00, the opening party starts in Parc d'Avroy. From 16:00 the 36 trucks will drive slowly along the banks of the Maas river to Quai de Wallonie where the closing party will start at 19:00. (and finish at 04:00)
The official City Parade 2005 anthem Love is the message (written by Peter Luts) will be officially released on vinyl June 6th. Check out the promo link!
For more info keep checking back www.dancevibes.be or the official City Parade site!
Welcome !
to DanceVibes, the site dedicated to belgian electronic music. We bring you daily updates on all that is happening in the dance scene.
more about dancevibes.be
Cool sites
Check out these sites:
Archives
Not so fresh news: