Celebration – be quick !
by stea
Correct answers are coming in, but you can still take a chance and perhaps become one of the lucky winners that will see the live performances of both Lasgo and Ian Van Dahl, the introduction of a new dance act and beats by dj's 'G-bric, Kurt, Jan Vervloet, Dimitri Chantzis.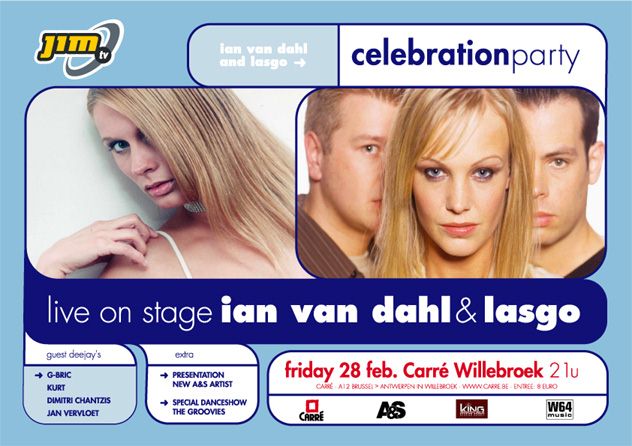 What do you have to do? It's simple: give us the full names of the female singers (Evy and Annemie) of Lasgo and Ian Van Dahl. Hint: browse through dancevibes.be :-)If you are one of the first people that send us a mail with the correct answer, you could join us to see Lasgo and Ian Van Dahl live!
Keep in mind that all of this will take place Friday February 28th, 2003 in club Carré (Willebroek, Belgium) and starts at 21:00. You and a friend can be there, seeing that dancevibes.be will be giving away several duo-tickets so that you can attend the party!
Prerequisite is that you live in or near Belgium so that it is sure that you will be able to be there and party with Lasgo and Ian Van Dahl.
Please mail the answer to steviy@dancevibes.be And don't forget to mail us your full address !!!!
Welcome !
to DanceVibes, the site dedicated to belgian electronic music. We bring you daily updates on all that is happening in the dance scene.
more about dancevibes.be
Cool sites
Check out these sites:
Archives
Not so fresh news: