16 years Illusion – The Trance Odyssey
by wim
While Club Illusion is still closed after more then three months the club recently organized its birthday party in Sportpaleis Antwerp! Mostiko in coorporation with AGM released the accompanying compilation CD: 16 years Illusion – The Trance Odyssey !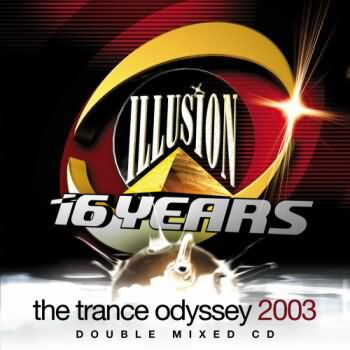 CD1 (mixed by DJ Jean)
TranceLucent – Music is the key
Joop – Act of God
Michel de Hey Vs Secret Cinema – Another sweater
Marco V – c:\del*.mp3
Airwave – When things go wrong
Dj Ton T.B. – Electronic malfunction (Dj Cor Fijneman's outstanding remix)
Overload – Nightflight
Hurricane Strike – Nitro
Latex – Encore
Massive Lust – Never
The Gift – Love angel (M.I.K.E. remix)
Rego & Philipo – Control
Push – The journey of life
Illusion 001 – Neverending
CD 2 (Mixed by Dj Jan)
Asphyx – Flashing
Ron Trent – Altered States
Paul Van Dyk – For an angel
The Oblique – The oblique
Antares – Pfirsisch
Global Trance Mission I – Dream Mission
Dj Jan – My impression
Hurricane Strike – Time up
Dj Rope & Marco Bailey – Be free
Robert Armani – Invasion (Spasms remix)
Groove Zone – Eisbaer
Mythe – Image
The Blackmaster – Time nerver stops
Protect System II – Simplicity
Quadran ft. Tasha – Unlovable
Welcome !
to DanceVibes, the site dedicated to belgian electronic music. We bring you daily updates on all that is happening in the dance scene.
more about dancevibes.be
Cool sites
Check out these sites:
Archives
Not so fresh news: