Checkmate
Biography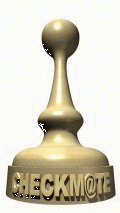 Producers Bart Wierzbicki and Sigi Rosseau (also known from The Quest) released their first Checkmate single Another world at No Name Records in 2000. They had a lot of success with this single: they reached number 1 in the Ultratop Dance charts and the track was also released in countries like the Netherlands, Germany and Spain.
The single Voices was released in 2002
Discography
Another world (2000)
Voices (2002)
Welcome !
to DanceVibes, the site dedicated to belgian electronic music. We bring you daily updates on all that is happening in the dance scene.
more about dancevibes.be
Archives
Not so fresh news: