The Quest
Biography
Trying to get out is the first single of the Belgian group The Quest.
This song was made especially for the TOPRadio program V-Quest where you can ask your favourite songs via email, sms, fax and phone!
The project has the following members:
Pieter-Jan Verachtert (the man behind the D-Devils), Sigi Rosseau and Bart Wierzbicki (known from Checkmate) as producers
Maaike Moens as a singer
Bjorn Verhoeven from TOPRadio as DJ / Manager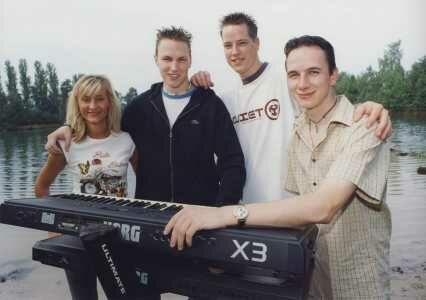 Maaike Moens, Bart Wierzbicki, Sigi Rosseau and Bjorn Verhoeven
The close ties between The Quest and TOPRadio makes that Radio Donna doesn't play the song very often (only in the UltraTop and the PrimaDonna – that's the TOP50 of the listeners) although they like it.
Other danceradios like C-Dance and RGR Boenkradio do play it 🙂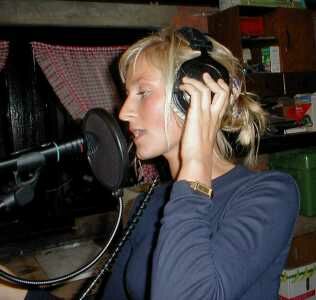 Maaike Moens singing in the studio !
The 2nd single is called On Top and was released on vinyl on November 12th, 2001. The cdsingle follows on November 26th, 2001.
The Quest is also going to Germany !! Antler Subway signed a contract with the german Alphabet City record company to release On Top and Trying to get out to the german market.
Single CDs
Remixes
Trying to get out (remix)
Trying to get out (live)
On Top (Da Flip remix)
On Top (A Cappella)
On Top (Vocal extended)
On Top (Instrumental extended)
Welcome !
to DanceVibes, the site dedicated to belgian electronic music. We bring you daily updates on all that is happening in the dance scene.
more about dancevibes.be
Cool sites
Check out these sites:
Archives
Not so fresh news: