Vive la fête – Schwarzkopf EP CD review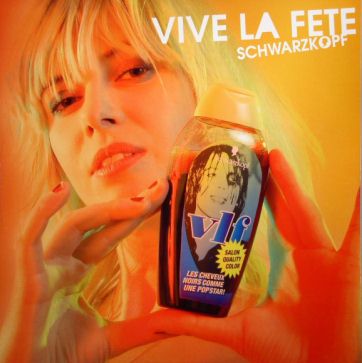 Buy Vive la fête – Schwarzkopf EP
Ah, a new release by Vive la Fête …Yummie ! I can't hide it, I'm a big Vive la fête fan.
And with the Schwarzkopf remix EP, Danny (Mommens) and Els (Pynoo) once again prove that all the hype that often surrounds Vive la fête is more than justified. If I would have to pick one Belgium band that defines everything I love about music, it would be Vive la Fête : sexy, chique, cool, full of humor, an anomaly, vixen meets superhero, out of this world.
The first time you listen to the title track, Schwarzkopf (raven black hair or shampoo brand : pick your own meaning), the message is clear : this is fun, fresh, catchy, and undoubtedly sexy. And the lyrics perfectly convey this : les cheveux noirs comme une pop-star indeed ;-). A second version of the same track also graces this EP. Remixed by The Backlash, Schwarzkopf remains a dance floor magnet. A bouncing electroclub tune indeed.
And it doesn't end there. Vive la fête also have a go at the world-famous classic "Wordy Rappinghood" (1981) and throw a bit of Divine's Shoot your shot and New Order's Blue Monday into the mix.
And yes, this makes it certainly a cover worthy of your attention (and deserves a few of your most impressive dance moves). Finally, Vivre sur video concludes this 4-track EP.
This track is a remake of Trans-X's 'Living on video' that gets the Vive La Fête treatment.
So, I think you get the picture : if you don't know Vive la Fête, go out and get their entire back-catalogue. NOW. And be sure to include this EP. Conclusion : Vive la Fête just another electrochique / electropop ensemble? Think again ! This is beyond-a-doubt pure music heaven. Enjoy.


Buy Vive la fête – Schwarzkopf EP
Review written by Steviy
Welcome !
to DanceVibes, the site dedicated to belgian electronic music. We bring you daily updates on all that is happening in the dance scene.
more about dancevibes.be
Cool sites
Check out these sites:
Archives
Not so fresh news: