Versuz First Floor Finest (2CD) review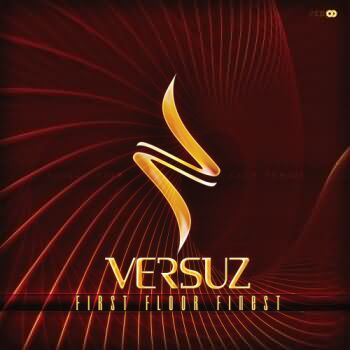 Versuz First floor finest 2CD Compilation Album review
What's a club without its own compilation CD? Nowadays, every major Belgian club publishes one or several compilation albums (just take a look at the range of Illusion CD's that have been released over the last few years). And now, Versuz has graced us with its own First Floor Finest double album.
Those of you that know 'Hasselt', the hometown of the 'Versuz' club, will certainly remember the time that 'Versuz' was know as Dockside, a very well-known Belgian club. The club existed for over 13 years, but finally had to close its doors. But from its ashes, 'Versuz' was born in 2002. '
Versuz' wants to be controversial but accessible and very, very stylish.
Qualities that can also be found on the 'First Floor Finest' double album. The CD's are packed full with great tracks like At Night from Shakedown, Shed My Skin from D*Note, Punk by Ferry Corsten and many many others. 30 tracks will keep you dancing for a very long time. But almost all of these tracks have been mixed with a special twist, sometimes making them almost unrecognizable when you first put on the CD.
But this surely isn't a  bad thing, seeing that these remixes have been done by big names(Dave Lambert, Mousse T, Tim Deluxe, and so on). Indeed the tracks are definitely going to blow you out of your mind.
And you quickly realize that the less original mixes add the least to the album. The Flesh & Bones track 'My Time has Come' remains a great dance track, but sits uncomfortably next to for instance, the great mix of 'At night'.
You need to buy this CD for the great atmosphere and special beats, not because of the fact that it contains quite a lot of big dance tracks. Both the first CD (First Floor Finest) and the second CD, mixed by Minimalistix' Dave Lambert are certainly worthy of your attention. So check it out!
Review written by Steviy

Versuz First floor finest 2CD Compilation Album review
Welcome !
to DanceVibes, the site dedicated to belgian electronic music. We bring you daily updates on all that is happening in the dance scene.
more about dancevibes.be
Archives
Not so fresh news: