Versuz 4 compilation CD review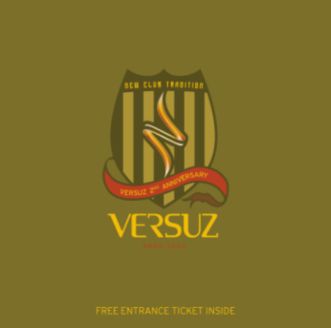 Versuz states that 'A Compilation CD is a logical progression in our quest of bringing happiness to the people!' So lets check whether they have succeeded in doing so. This is already the fourth Versuz compilation CD and you might remember from a previous review that we quite liked the 'Versuz First Floor Finest' compilation, so expectations are high for this new release.
The new Versuz release is a double CD and both discs are compiled by Dave Lambert, Bart Maes, Tom Leclerq and B. CD1 is mixed by Dave Lambert, while CD2 is mixed by Bart Maes. The first track on the CD immediately sets the pace : Skylark's That's Y More Like it is an excellent club track. The second track has quite a different feel to it, but its industrial sounds really hit the mark (Down & Out is something I put on, many times). Y.a.b., the upbeat remix of You Are Beautiful, is a perfect anthem for a hot summernight. And, of course, any compilation needs a few big hits and Narcotic Thrust's I like it certainly fits that description. But the other tracks are certainly worth your while : Sexercise will make you scream, while Benny Benassi does his stuff on Love is gonna save us (and he does it well) and revisiting Capricorn (by 20 HZ) is bound to make you jump on the dancefloor.
So dics 1 certainly lives up to its expectations : a diverse mix of the old (remixed) and the new, hit and underground club hit, all brought together expertly by Dave Lambert. A big thumb's up. Enter CD2.
Track number 1, Alright by Red Carpet, should need no introduction. It is a wonderful track, that from a minute or 2 into the song opens up with some great vocals. Wawa's No problem is just plain freaky (and we do like plain freaky, thank you). Hatrixx's Pressure is also included on the second disc in a new remix version that completely transforms the track. The big fake (by Traffic Signs) is just what I need to get me going : the right beat, the right rythmn. And so do the minimalistic sounds of M.A.N.D.Y. and the Sunsetpeople.
Conclusion : I can strongly recommend this new Versuz compilation : check it out, enjoy the atmosphere and then use the free ticket inside to check out the real deal and visit club Versuz itself. Enjoy !
Review written by Steviy
Tracklisting
CD1: Mixed by DJ DAVE LAMBERT
Skylark – That's More Like It
Peter Katafalk – Down & Out (Maskio Thriller Remix)
Verheyen & Vanvaeck – Y.a.b
Narcotic Thrust – I Like It (Dub Mix)
Gipsy – Gipsy (UK Club Mix)
Altar – Sexercise (Funky Junction & Splash Funk-Remix)
Obersoundz – I Wanna Be With You (La Comitiva Club Mix)
Benny Benassi – Love Is Gonna Save Us
Mojado feat. Mr. Sam – Naranja (Dimitri Andreas Vision)
Riva – Run Away
Oliver – Future
20HZ – Capricorn
Locodice – Phat Dope Shit (Saeed's Shit Base Remix)
Alex Dolby – Psiko Garden
AVUS – Real
CD2: Mixed by DJ BART MAES
Red Carpet – Alright (Den Hétrix & Raffa Mix)
Sandy Rivera – Dreams
Scuba feat. Dr. Kucho!, Gregor Salto & Camiel – Tonight (Madrid Goes Wild Remix)
WAWA – No Problem (Dub Mix)
Par-T-One vs INXS – I'm So Crazy
Hatrixx – Pressure (Exclusive Versuz Mix)
Traffic Signs – The Big Fake
Saiko-Pod – Groove Moderator (Miro Mix)
M.A.N.D.Y. & The Sunsetpeople – Knock On
Orielle – All I Know" (4tune 500 Remix)
Origene – Sanctuary (Harry Lemon Remix)
Armin Van Buuren – Blue Fear 2003
DJ Linus – Flokati
Paolo Barbato vs Nick Tonut – Nothing New
Unkle – In A State (Sasha Remix)
Welcome !
to DanceVibes, the site dedicated to belgian electronic music. We bring you daily updates on all that is happening in the dance scene.
more about dancevibes.be
Archives
Not so fresh news: