Top Hits Dance Edition 2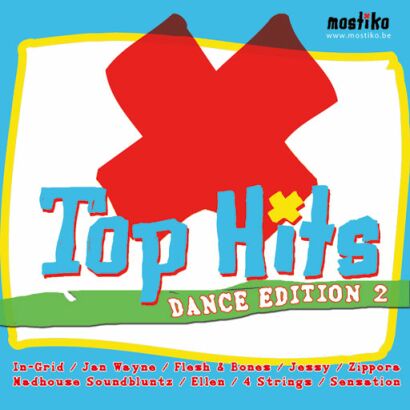 Buy Top Hits Dance Edition 2 Album
What better to buy for some who loves dance music than a good compilation album? Mostiko wants to cater for your needs and has released a new compilation CD, Top Hits dance edition 2, which should find its way to the collection of many dance-addicts in the next few months.
The CD features 20 tracks, many of which are or have been big hits in Belgium and beyond. Jessy, Flesh & Bones, Orion Too and Minimalistix are only a few of the big names that you will find on the album. The inclusion of a lot of big hits makes this compilation CD a worthwhile purchase. So the overall verdict for this Mostiko release is very positive, but as is the case for most compilation CD's there are also tracks that are best forgotten (or skipped when you are playing this CD).
But let's focus on the positive first and luckily, good things make up the biggest part of the compilation CD. The CD starts out strong with the excellent track 'Tu es foutu' by In-Grid. This little gem, entirely sung in French, features some instruments that you would never expect to hear in a dance track, but it works! Indeed, the song immediately stands in a landscape that looks likes it is sometimes filled with plain – let's make it in 5 minutes – dance tracks.
So, a great starts, but we want some more and the CD delivers just that with the second single by Flesh & bones, My Time has Come. This single by Wout (Sylver) and Regi (Milk Inc.) is the follow-up to 'Rigor Mortis' and has a great beat to it. As such, it's perfect to turn up the volume! Fantastic.
Jessy, the former leading lady of The Mackenzie also donated her first solo single, Look at me now, for 'Top Hits'. You can read a review in our review section, but suffice it to say that Jessy's formidable voice does the trick for me. Look at me now isn't as good as for instance Innocence but it's still a wonderful little track that grows on you if you listen to it repeatedly.
But another leading lady of dance, Sylvie (from the band Sylver) is also present on the CD. Sylvie has provided the vocals for Mnc's 'Sweet Dreams', which adds flavor to an otherwise pretty bland track.
In addition, Ian Van Dahl's smash hit is also included on Top Hits. The track has taken most of Europe by storm and hasn't lost much of its punch yet. Another well-known track is 'The Anthem' by Sensation. Personally, I also love the tracks by 4 Strings (Diving), Decoy & Roy (Inner Life) and Madelyne (Beautiful Child). Some of these might be not so well known to you, but you should definitely check them out. The esoteric sounds and great vocals really do it for me, so I'm glad that these tracks got included on the compilation CD.
Some tracks are good, but not really great (nor are they the best work of the featured artists). Zippora's 'Time Stood Still' doesn't reach the same level as 'See the Sun' or 'Lotus Eater'. It's certainly not a bad track, but it's just more of the same. Same goes for Orion Too. So shy is a nice dance track, but it's not really progress when compared to Hope and Wait. There are some fun tracks with little substance such as Karaja's 'She moves la la la' and Ellen's 'I am Free'. Great to play at a party and good as background noise but easily forgotten.
But where this compilation really misses out is with the inclusion of a lot of remixed eighties tracks. The current wave of eighties songs that get the dance treatment seems unstoppable and, well, that isn't a good thing.
Most of these songs are uninspired and often bring down a great original track. So the first thought that springs to mind is 'Hands Off'. Billie Jean, Like A Virgin, Voyage Voyage, Because The Night and I Wanna Dance With Somebody all miss the mark completely.
Don't think that I despise all these eighties remixes: I love the remix of Sweet Dreams by The Eurythmics: hard beats, dark vocals. Other artists have done great things with (samples of) older tracks. The Sugababes used a sample by Gary Newman and the New Order (Blue Monday) remix of Kylie's 'Cant Get You Out of My Head' is better than the original. But Mad'house's version of 'Like A Virgin' just reeks. The original Madonna song was fresh and good fun. The new cover is bland, badly sung and totally uninspired.
But the compilation album ends strong with 'A Forest' by Minimalistix. It is different enough to make you pay attention and catchy enough to warrant repeated play. A good ending. Overall conclusion: many big hits make this a good purchase, but forget about the 80ties tracks (or just find the original and listen to that).


Buy Top Hits Dance Edition 2 Album
Review written by Steviy
Welcome !
to DanceVibes, the site dedicated to belgian electronic music. We bring you daily updates on all that is happening in the dance scene.
more about dancevibes.be
Cool sites
Check out these sites:
Archives
Not so fresh news: