Sylver – Chances (special 2CD edition) CD Review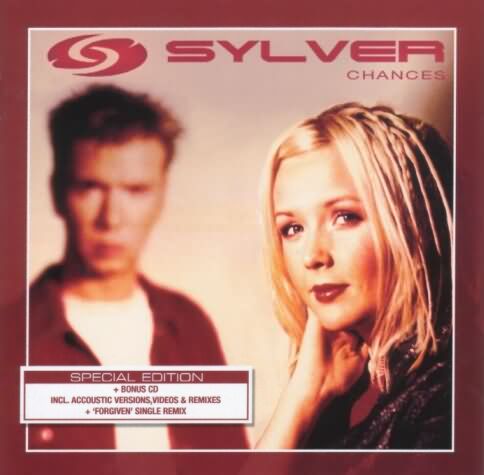 Buy Sylver – Chances (special 2CD edition) –



First you feel the perfect beat, and just moments later Silvy's beautiful – yet sometimes icy cold – voice sends shivers up your spine. And that's just the beginning. What am I talking about? Perhaps one of Belgium's best commercial dance tracks ever: Turn the Tide by Sylver. No, that's not even right: it's not only a great dance track, but also a beautiful song which you have got to discover.
Turn the Tide was released in 2000 and instantly became a number 1 hit, spending 3 weeks at the top of the Belgian charts. From that moment on, Sylver – at that time known as Liquid featuring Sylvie – became a force to be reckoned with in the Belgian dance Scene. But the success of Turn the Tide was certainly not limited to Belgium. Israel, Germany, Austria and Switzerland have all succumbed to the power of Silvy De Bie (Sylver's young vocalist) and Wout Van Dessel (who, together with Regi Pinxten, known as the force behind Milk Inc. writes and produces Sylver's songs).
With Turn the Tide, Sylver set very high expectations. The single was quickly followed by an album, Chances which normally isn't very good news. After all, with a highly successful and extremely good first single, it's hard to release an equally impressive album. Indeed, many artists never surpass (both creatively and commercially) their first success. So did Sylver miss the mark and just create a great first track with several 'carbon copies' that are hardly worth listening to? Well in one word: NO.
After the great opening track, Chances continues with an equally strong track: Skin (I touch your skin, I smell the sin,Your eyes are lying … My love for you is dying), which was accompanied by a great video. The track has a very exciting beat with strong vocals by Silvy. Indeed, throughout the album, Silvy's distinctive sound lifts the tracks to a higher level.
Skin, which was Sylver's second hit in Belgium, is followed by yet another hit single, Forgiven. Together with Skin and Turn the Tide, Forgiven makes up a true 'love triangle' (just read the lyrics in the booklet). Turn the Tide definitely is the best song of the three, but both Skin and Forgiven are excellent dance tracks.
The fourth track, Forever in love, is a very upbeat song , perfect for a summer party (the video for the song made that obvious) and certainly worthy of your attention. However, the track is directly opposite to the three first tracks when you consider its 'general feel' (the first songs are actually pretty gloomy and dark).
Although the biggest part of 'Chances' consists of dance music, it's not all dancing on the album. In your eyes (which was also released as a single) and Secrets are two songs that prove that dance acts can also create a good ballad. Both songs also illustrate Silvy's diversity as a singer.
Unfortunately, as The smile has left your eyes illustrates, not all songs are up to the extremely high standards set by Turn the Tide, Skin, Forgiven, etc. The smile has left your eyes is pretty standard fair and certainly doesn't stand out. Mystery of tomorrow is better and starts out strong, but in the end fails to make a big impression after continued listening. It's certainly not a bad song, but seeing that the first five songs on the album are very strong, Mystery of tomorrow fails to shine (note though, that it is still way ahead of most other commercial dance tracks). The edge of life should be skipped altogether. It is arguably the weakest track on the album.
Finally, Angel on my shoulder is once again a dance track, but with different twist: it's not very often that you hear a saxophone in a dance track.
But let's not emphasize these few weak points. Chances is an excellent album which should be in everyone's collection (whether you like dance or not). There are at least six or seven very strong songs on the album (you will certainly put these on repeat) and undoubtedly one true classic (Turn the Tide, although I also can't stop listening to Skin and Forgiven). Both Silvy and Wout should be very proud of this release and we are eager for a second 'Sylver' album, which we hope will even top the first one.
Note also that CD1 contains three interesting extra's: A CJ Stone Remix of Turn the Tide, the Velvet girl remix of Skin and an excellent video for Turn the Tide (keep watching until the very end for a surprising – and somewhat morbid, but hilarious – ending).
CD2 continues with these extras: several acoustic versions are on the CD, as well as very good remixes by Airscape, 3 Drives and Oliver Lieb. As a bonus you also get the videoclips of Skin, Forever in love and Forgiven !
You can listen to audio samples on the official Sylver site !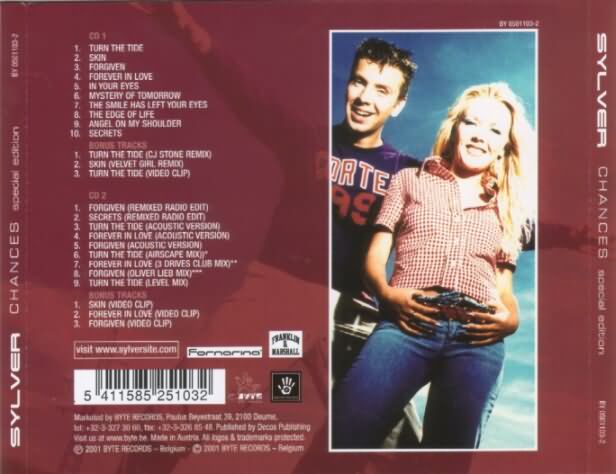 Buy Sylver – Chances (special 2CD edition) –



Review written by Steviy
Welcome !
to DanceVibes, the site dedicated to belgian electronic music. We bring you daily updates on all that is happening in the dance scene.
more about dancevibes.be
Cool sites
Check out these sites:
Archives
Not so fresh news: