Solid Sounds (2001, volume 3 – double cd)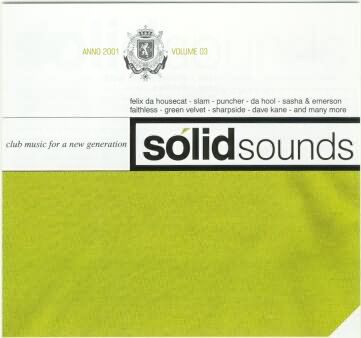 It's time to dance. NEWS has released a new SOLID SOUNDS CD on August 2th and its certainly worth our attention.
Indeed, the third double cd of the restyled Solid Sounds series is bound to be of great interest to all those who love to go out clubbing.
This third volume of Solid Sounds new style starts with an excellent tune from Felix Da Housecat, the great club hit Silver Screen / Shower Scene (a personal favorite). Other well-known songs include Slam – Lifetimes, which has got a lot of airplay lately, Faithless – We come 1 (an excellent dave clarke remix) and Green Velvet – La la land, which features the excellent line Something 'bout those little pills, unreel the thrills they yield until they kill a million brain cells.
But it does not end there: other great tunes for dancing include for instance Stashrider – Voodoo.
Review written by Steviy
Welcome !
to DanceVibes, the site dedicated to belgian electronic music. We bring you daily updates on all that is happening in the dance scene.
more about dancevibes.be
Archives
Not so fresh news: