RGR presents … 2 Hard 2 Loud compilation CD review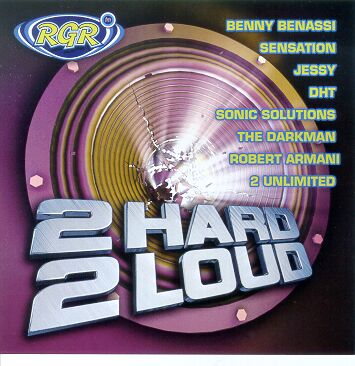 RGR presents … 2 Hard 2 Loud compilation CD
RGR presents … 2 Hard 2 Loud. For the people that live in or around Leuven, Radio Groot Rotselaar might be a familiar radio station. RGR has – for quite some years now – flooded the airwaves with some of the best and indeed loudest / hardest (Belgian) dance music. The RGR parties are also well-known and very successful events. So the introduction of a new compilation CD (brought to us by target="blank">Mostiko) was only a matter of time. And is it worthy of your attention?
Well, it depends. If you recently went to a music store and bought one or more of Mostiko's other compilation CD's you will probably want to skip this release. After all, the CD contains many well-known tracks that already appeared on one or several of Mostiko's compilation CD's. But let's pretend that you didn't buy anything … In that case, this CD has some great tracks on it. For instance, Benny Benassi's super track 'Satisfaction' (and if you haven't seen it already, try to catch a glimpse of the absolutely fabulous – and extremely funny – video with lots of 'playmates'). Moreover, the CD starts with DJ Rebel's 'Galactica', followed by Darude's 'Music', both excellent dance tracks ….
Other hit singles includes Jessy's 'Head over Heels', Sensation's 'Anthem 2003' and Minimalistix 'Magic Fly'. Even 2 unlimited's 'old' hit 'No limit' has found a place on this CD in a 2003 remix (and Sonic Solution's 'Heaven is a place on earth', but we all know how I feel about this track 😉 ). But it doesn't end there, for RGR lovers there are many other tracks (you get 29 tracks on this CD) with loud beats (however, not all of high quality).
So, in the end it boils down to a simple decision : got a recent compilation CD? Check whether you don't already own most of the songs on this '2 Hard 2 Loud' CD. If not, be sure to check it out.

RGR presents … 2 Hard 2 Loud compilation CD
Review written by Steviy
Welcome !
to DanceVibes, the site dedicated to belgian electronic music. We bring you daily updates on all that is happening in the dance scene.
more about dancevibes.be
Cool sites
Check out these sites:
Archives
Not so fresh news: