Punk City – Mission CD Single review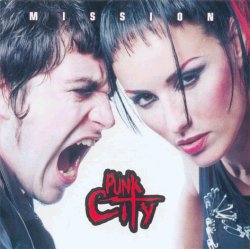 Zohra has always been a remarkable woman, a real media phenomenon. She has always been a successful artist, at first as the lead vocalist of 2 Fabiola, a highly successful Belgian dance formation, but also in her solo career: Zohra released several hit singles under her own name (for instance: I hate 2 Love U ). But that's not all: She has been on the cover of countless magazines, a guest in many shows and a successful DJ. But now she is part of a new project, Punk City.
Punk City is the result of a collaboration between Kris Vanderheyden, a well-known producer and Zohra. The group released its first single, the Mission in October 2001.
Mission certainly isn't a run of the mill dance track. The track has a distinctive, pretty hardcore, monotone beat, which is combined with Zohra's sensual voice. There have always been people that said that Zohra is not a great vocalist. And indeed, her vocal range is perhaps somewhat limited but she always succeeds in 'covering up' these shortcomings. Even more, her extremely sexy voice has become somewhat of a trademark that she exploits very well (also on this track, with its spoken lyrics).
This first Punk City single can be seen as somewhat of a crossover between electronic dance and punk and therefore is a lot more innovative than most other Belgian dance releases. On the dance floor, this track will make you jump and scream (and it will certainly drive your parents crazy when you play it at home). The heavy beat is accompanied by lyrics that can be quite strange. For instance, it's not often that you hear someone sing:
Is this earth? Let's take a look then. Strange, wonderful grass of green … can I land my kinky machine?
A video has also been released for this first single (with a new look for Zohra) that is a perfect match for the song. People that are familiar with 2 Fabiola will also recognize Fabio, the dancer that used to be part of the group.
Punk City's first single is certainly worthy of your attention, certainly if you want to explore something different than pure commercial dance music. The beat is great, Zohra – as sexy, beautiful and strange as always – provides the perfect vocals and in the end, the song is just pure fun. Hopefully, we will hear more of the group (or Zohra in a solo project) in the near future.
In my personal opinion, Punk City has delivered a markedly good debut single. Every time I hear the song, it makes me want to go out and party. And in the end that's the only one thing to do: let Zohra take you on a ride in her 'kinky machine'.
Buy Punk City – Mission CD Single:


Buy Punk City – Mission CD Maxi Single:


You can also find vinyls and CDs at

!
Review written by Steviy.
Welcome !
to DanceVibes, the site dedicated to belgian electronic music. We bring you daily updates on all that is happening in the dance scene.
more about dancevibes.be
Cool sites
Check out these sites:
Archives
Not so fresh news: