Praga Khan – Freakazoid CD review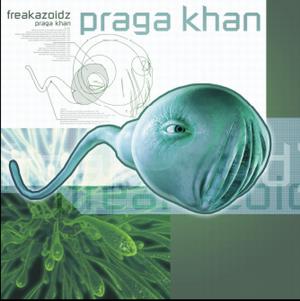 Praga Khan (aka Maurice Engelen, the man behind Lords of Acid) has been making dance music for more than a decade. Now the band has released its new album, Freakazoid. The first single of that album, Glamour Girl, has already made quite an impact.
With this album, Praga Kahn will be seeking to recapture the success it had with 21 st. Century Skin. After all, this album featured some excellent tracks (Lonely and Breakfast in Vegas spring to mind), which drove sales of the album up to high levels. The new album should also make us forget about the previous album, Mutant Funk, which was a bit of a disappointment.
So has Maurice Engelen hit the mark with this new album? If you listen to the first single, the answer is definitely yes. Glamour Girl is an excellent song, which combines current dance trends with new wave music from the eighties. Praga Khan could not have made a more suitable first single to sell its album. Excellent stuff (and you should certainly check out the video, which is very good).
Freakazoid is a mixture of several music styles. Praga Khan definitely has a big eighties thing going on on this album, with several songs having that eighties feel. Tausend Sterne (yes, indeed, a song which is sung in German) is the best example of this influence. The song is a perfect copy of the German 'Neue Welle' music from the eighties. Pure dance, house, breakbeats, glamour pop, its all mixed together on the album. There are even some Oriental sounds on the album (Look to the Future) and even a bit of reggae (Because of you).
Although most of the songs have a distinctive sound, none seem to be able to achieve the same impact as Glamour Girl or, for instance, Breakfast in Vegas. What is certain though is, that Praga Khan will be able to create an excellent live show with the material on this album and the stuff from its back-catalog (the reason why this band is so loved in the USA, the concerts are always excellent).
The songs are varied, but the fact that Maurice Engelen sings on all of them is a bit of a mistake. Several songs would definitely benefit from a singer who has a better vocal range. So perhaps it would be best of Praga Kahn would hire a (preferably female) vocalist for some of the songs on its next album.
But Freakazoid is definitely a better album than Mutant Funk. However, it does not reach the same level as 21 st. Century Skin. Check it out and be sure to add Glamour Girl to your collection…

Review written by Steviy
Welcome !
to DanceVibes, the site dedicated to belgian electronic music. We bring you daily updates on all that is happening in the dance scene.
more about dancevibes.be
Cool sites
Check out these sites:
Archives
Not so fresh news: