Orion Too feat. Caitlin – So shy CD Single review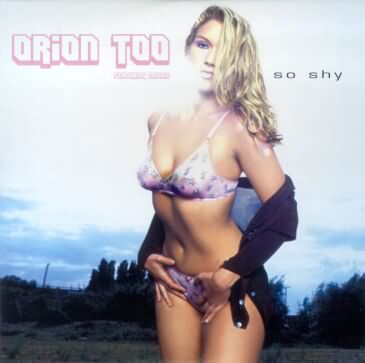 Buy Orion Too feat. Caitlin – So shy CD Single:

So shy is the third single by Orion Too featuring Caitlin and is already noted on the Belgian Ultratop. The single, once again with vocals by Caitlin, is doing pretty well overall. After Hope and Wait and You and Me, Orion Too is bound to score another hit with this one. The group doing well outside of Belgium too, performing gigs all over the world.
Orion Too's sexy lead singer, Caitlin, who in the past was also a singer with Astroline, has been receiving a lot of attention lately. Several sexy photo shoots for P-magazine have certainly helped to put the singer in the limelight. So shy is once again accompanied by a sexy video and the picture on the CD also leaves little to the imagination.
The new single doesn't stray to far from the two previous singles. The single does focus more on Caitlin's vocals than the first single did. It's a good song, but not a great song. I was hoping that Orion Too would experiment a little more with this third single, but they didn't. As such they have released another good Belgian dance track (which is a problem for a lot of bands lately, they are apparently afraid to innovate and take the Belgian dance scene to a higher level).
However, this should not spoil the fun for Orion Too. The single is a worthy successor to Hope and Wait and will do well in the charts. Most people will like it and even more people will dance to it. But let's stop with evolution and bring on the revolution … in the mean time, I will have fun with this new single. And so should you.
For the fans: there are also two great remixes on the single CD, namely an extended radio mix and an excellent Nord vs Bonka remix.
Thanks to David from MOSTIKO for the review CD
Buy Orion Too feat. Caitlin – So shy CD Single:

Review written by Steviy
Welcome !
to DanceVibes, the site dedicated to belgian electronic music. We bring you daily updates on all that is happening in the dance scene.
more about dancevibes.be
Cool sites
Check out these sites:
Archives
Not so fresh news: