Nid & Sancy – Talk to the machine CD Album review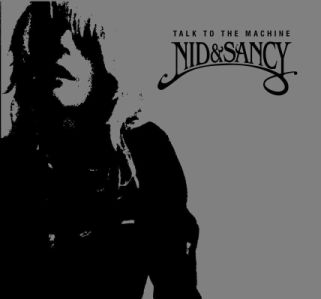 Nid & Sancy – Talk to the machine CD Album
Sometime you might think that Belgium dance is all about commercial trance / house,
but it is clear that this small country has a lot more to offer.
Just listen to Vive la fête, Magnus. And now, Nid & Sancy (referring to Sex Pistols' Sid Vicious and his girlfriend Nancy) from Ghent release their new album upon the unexpecting masses. Talk to the machine indeed.
Real songs, loud, mechanical, bizarre, energetic and way cool.
Kicking commercial dance where the sun don't shine … Talk to the machine mixes punk with electronic music and many other influences, resulting in a sexy sleazy dance floor cocktail (or better: a cocktail best drunk at one of this summer's many festivals).
The album kicks off with 69 record machine, with faint vocals by Sancy and a haunting but oh so sexy electrosound. The overall effect is strange, bewildering, mechanical. Expect to be surprised. No F*** all reserves a more prominent role for Sancy's far-out vocals and once again underpins it all with some good old dirty electrosound.
What will really blow out your mind is 'So where's your acid brothers'. I dare you to stand still when this one is played in any club at full volume. Big beats working themselves continuously to an even bigger climax. A big thumbs up for Nid & Sancy.
But the other tracks on the album certainly want to be noticed to. From the sexy Anorak Nervosa to the white esoteric noise that poors out of your speaks when you play Ender, they are need to be heard by you.
So putting electro together with punk, synths with guitars, sleaze with sophistication, … mixing it and serving it up icecold, does that do the trick? It certainly does for me.
Nid & Sancy's Talk to the machine is a refreshing album that reminds you that there's a lot more to discover on your trips through the night from (underground) club to club … And yes, you have to keep an open mind, but if you do, I promise you won't regret buying this …
Review written by Steviy


Nid & Sancy – Talk to the machine CD Album
69 record machine
no f*** all
be yourself tonight
jambalaya
out of town
anorak nervosa
misunderstood
plug & slide
so where's your acid, brothers
ender
Welcome !
to DanceVibes, the site dedicated to belgian electronic music. We bring you daily updates on all that is happening in the dance scene.
more about dancevibes.be
Cool sites
Check out these sites:
Archives
Not so fresh news: