Monotone feat. LA. Work – Collector 1 vinyl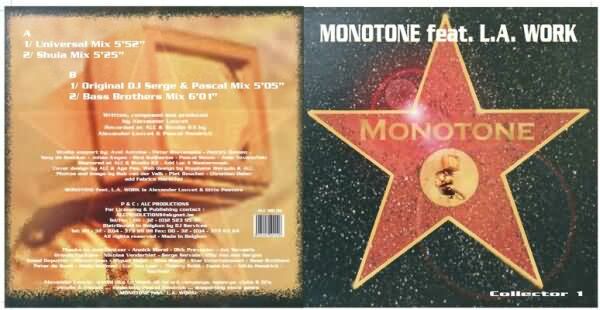 Beginning 2003, Monotone feat. LA. Work released the Collector 1 vinyl. Collector 1 is a re-release of their biggest hit Monotone which was released to the Belgian market in September 1999. Monotone went all the way to the Nr 1 position in the Belgian Club charts!
This new vinyl contains 4 mixes: the all new Universal mix and Shuia Mix on the A side and the Original DJ Serch & Pascal Mix and the Bass Brothers mix on the B side.
Monotone is a full instrumental trance track, so people who're looking only for standard female vocals in belgian trance will be a bit disappointed… But don't let that scare you 🙂 The track has a nice drive to it, and when played loud in the club will certainly start moving your body…
I really like the 'Shuia Mix', but that's personal preference, eg. if you like fat beats then check out the Bass Brothers mix.
Music samples can be found on the official ALC Productions site!
If you like the record, you can buy this vinyl record also via the A.L.C. website. For those without vinyl player, it has not yet been decided if a CD Single will be made but you'll be able to find the 'Monotone – Collector 1' track on the Top Radio compilation CD which will be released in April.
Thanks to Alexander from ALC for the review CD
Review written by Wim
Welcome !
to DanceVibes, the site dedicated to belgian electronic music. We bring you daily updates on all that is happening in the dance scene.
more about dancevibes.be
Cool sites
Check out these sites:
Archives
Not so fresh news: