Mixmania 2004 02 compilation CD review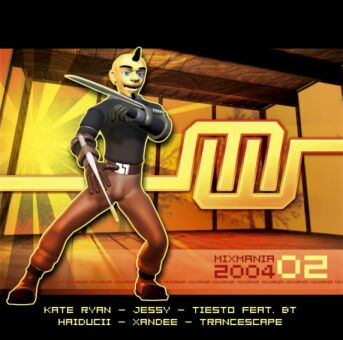 Buy Mixmania 2004 02 compilation CD
This second edition of Mixmania 2004 is once again packed with all the hits that have charted during the last few months, including some big number 1 hits. So first the good news, there are some really great songs on this CD : Xandee's 1 Life is one of those big hits. Topping the charts for many weeks, this commercial dance track was Belgium's high hope for the Eurovision Song contest. Although it didn't score that well, it definitely remains a very good track : upbeat, strong vocals, … 100 per cent fun. Benassi Bros' Illusion (the track featuring Sandy) is my personal Benassi favorite. It has got so much power it just makes you dream of a night on the dancefloor. Perfection.
Next to these tracks, which I really like, there is a set of other big hits on the CD. You just can't get around Haiduccii's Dragostea din tei (although I wish I would never have to listen to that song again) of course. But also Kate Ryan's cover of 'the promise you made', Tiesto's Love comes again and Boogie Pimps Somebody to Love (yes the underwear commercial with the bouncing baby) are included. And these are but a few of the tracks that have charted these last few months.
Overall there are 30 tracks mixed together on this CD and as always, this also means that there a quite some leftovers included. So, if you want an overview of the dance hits that charted the last few months, Mixmania gives you what you want. However, it's purely a commercial thing, so no big underground club hits and stuff boys and girls. And in the end, it is definitely a case of quantity over quality (with a fair degree of leftovers added to the mix). So, it's up to you to decide.

Buy Mixmania 2004 02 compilation CD
Review written by Steviy
Tracklisting
KATE RYAN – the promise you made
LMC VS U2 – take me to the clouds above
XANDEE – one life
ROYAL GIGOLOS – california dreamin'
HAIDUCII – dragostea din tei
BENASSI BROS FEAT. SANDY – illusion
TIESTO FEA. BT – love comes again
TRANCESCAPE – producelast
URBAN COOKIE COLLECTIVE – the key the secret 2004
JESSY – how long (point of no return)
IAN VAN DAHL – where are you now?
NOVASPACE – run to you
DJ WOUT – mastermind (cor fijneman remix)
JX – restless
ARMIN VAN BUUREN FEAT. JUSTINE SUISSA – burned with desire
ROADBLOCK FEAT. DAVE BEYER – about a girl
MEMENTO – new life (peter luts remix)
BOOGIE PIMPS – somebody to love
NARCOTIC TRUST – i like it
FEDERICO PANZANINI – i've been obsessed (ogada mix)
OUTROWZ – wrong
DJ COR FIJNEMAN FEAT. ANITA KELSEY – healing
FERRY CORSTEN – everything goes
FRANK-FURT – now (dj luke remix)
KARADA – il futuro
PARTYMEN – da groove da beats
AQUALORDS – beloved (nico parisi late night mix)
IAN KNOWLES – united as one
DAVE MCCULLEN – stars
SONIC SOLUTIONS – china in your hand
Welcome !
to DanceVibes, the site dedicated to belgian electronic music. We bring you daily updates on all that is happening in the dance scene.
more about dancevibes.be
Cool sites
Check out these sites:
Archives
Not so fresh news: