Minimalistix – Elements 2CD Album review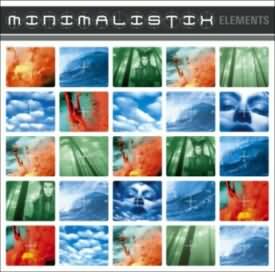 Buy Minimalistix – Elements 2CD Album
Minimalistix have been having big successes with singles like Close Cover, Struggle for pleasure and A Forest.
In August 2002 they released their first album called: Elements, 24 trance tracks packed on 2CDs! Does it contain hidden gemms waiting to be discovered by the masses ? Read on to find out!
The first CD is called Natural Elements and contains 13 Minimalistix songs. The second CD contains 11 remixes of Minimalistix songs and is logically called Remixed Elements.
CD1 starts off with the Belgian radio edit of their big hit Close cover, the Wim Mertens cover that put Minimalistix on the worldmap. We already reviewed this song in detail on our Close Cover CD Single review, so check that one out!
Magic Fly will sound very familiar, at least for people who know the 70s/80s synthesizer music. (sound sample of the original version). Magic Fly was originally written by Space in 1977. The Minimalistix trance cover is very nicely done.
Twin Peaks theme (Fallin) on the other hand doesn't do it for us, the slow original version is still the best.
Adagio for strings has a lot of emotional energy and is a great trance adaption of the classic original. Hopefully Minimalistix will release this one as one of their next singles (with a lot of remixes :)).
Struggle for pleasure, also known in Belgium as the Proximus tune, is another Wim Mertens tune. Great beats and piano's in this remixed version 🙂
A Forest (The Cure), currently the most recent single, offcourse isn't left out. The radio edit is nice but also check the even nicier remixes.
Besides the trance covers the Minimalistix team also writes it's own songs:
Voices for Jana was written by Brian for his niece. It has a warm, soft and fuzzy feeling over it. Nice work!
About Blue bell the Minimalistix teams says: Joey teased us that we could not write one decent piano tune, I believe we did. Of course pushing us this far was his aim… Joey, don't stop teasing them 🙂
Breaking the waves, "Water" Brian String Orchestra, Let me fly into your heart are no cd fillers too… a great achievment!
Remixed Elements starts with a Filterheadz remix called Close but Undercover. A deep warm bass baseline with mysterious background sounds guides you to Into the Trees. This remix consists also of a lot of warm sounds but misses a little bit of dynamic. Struggle for Leisure, a remix of the original Struggle for pleasure and the third Filterheadz remix is more up-tempo.
Bass @ Nova shows the art of remixing in A Forest. A nice uplifting beats takes you to their interpretation of Close Cover. You get to hear a nice evolution coming from a nice sampled intro over the famous close cover tune to end up with a dark bass.
Dark bass, roaring sounds and rattle snake sounds with sweet vocals is the summary fo the next track. High violins in the second part of the track bring releave and get you into trance. Into Violin Trees is a nice piece of work.
Struggle for Pleasure starts with an intro that reminded me of one of the Milk Inc songs (sorry, but the title escapes me). The Brian New Mix of the famous 'Proximus' tune misses a little bit of inspiration, though some parts are really nice sampling.
The next track of this remix cd is called Let Me Fly and is an instrumental Club mix. No hard beat but heart beat, softer and sweeter and a lot of inspiration. Strong start but unfortunately it is not maintained till the very end.
Breaking The Waves starts with an uplifting uptempo beat. The moment that the original tune is brought to the foreground is really marvellous! This track is really a piece of art and I like the play with the volume level. It's a bomb!
The last track of this cd is a Brian After Dark mix of the famous Close Cover tune to chill out from the previous track 😉


Buy Minimalistix – Elements 2CD Album
Review written by Brenda and Wim
Welcome !
to DanceVibes, the site dedicated to belgian electronic music. We bring you daily updates on all that is happening in the dance scene.
more about dancevibes.be
Cool sites
Check out these sites:
Archives
Not so fresh news: