Mackenzie ft. Jessy – Angel Millenium edition cd review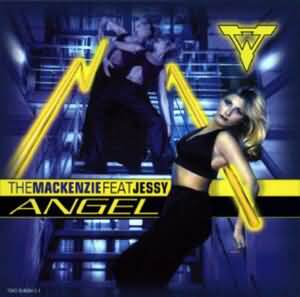 Actually two versions exists of this cd: the Millenium edition and the normal edition. The Millenium edition of Angel was released at the end of 1999 and includes a bonus cd with 2 more additional remixes. We will review the Millenium edition.
Stephane Akenan and Patrick Fasseau as producers and Jessy De Smet as singer form the Mackenzie ft. Jessy. A combination that has been very succesfull in the past in Belgium. Why they didn't have international successes is still a mystery to me… some say that this trance style of music only scores good on the Belgian market. I don't want to believe that as now Lasgo (Something), Sylver (Turn the tide) and many more had international successes in 2001. Personally I think the 'market' wasn't ready at that time. Nevertheless, that's why dancevibes.be is here… to let you know about past, present and future Belgian projects 🙂
CD1 contains 12 tracks, non of which are radio-edits. I think this is a very good descision because trancemusic is still the best when you have a good and longer built-up to the let-it-take-you-out-of-control moment…
The first three tracks have been Belgian radiohits: The Rain (Club mix), Out of Control (Stuff mix) and last but not least Innocence (Club Mix).
All these tracks are very good trancers, certainly the song Innocence which is a masterpiece.
On the bonus CD you can find 2 other remixes of Innocence: the Hidden Sound System remix and the DJ Tiësto Magikal remake. The Hidden Sound System one is my favourite.
(my recommendation: if you're serious with music you must have Innocence in your collection :-))
Next up are You got to get up (Original club mix) and (I'll make love with) The DJ (Club mix), two songs that previously were only available on vinyl. They are less commercial but good and were made before their breakthrough with Innocence.
CD1 is further filled with the hits Falling in love, Alive and I am free and unknown trancers from their begin period: Arpegia (Without you), Love and more…
Unknown absolutely doesn't mean CD fillers in this case, the songs only would have needed a better recordcompany in the beginning period.
As already said the bonus CD includes 2 remixes of Innocence. Two more songs are present: Emotions and Don't leave me, but they aren't really special.
Conclusion: This trance album is a must for everybody. The earliest songs are from 1995 while some others are from 1999, this gives you an album that has almost no fillers and more diversity in the individual song styles.
Buy the Angel Millenium Edition by Mackenzie ft. Jessy –

Review written by Wim
Welcome !
to DanceVibes, the site dedicated to belgian electronic music. We bring you daily updates on all that is happening in the dance scene.
more about dancevibes.be
Archives
Not so fresh news: