Lords of Acid – Farstucker cd review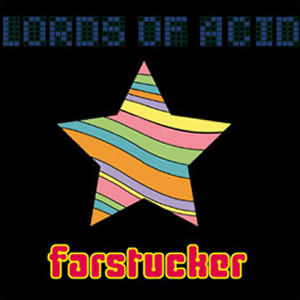 Those of you that have been around for a while might remember a great tune called I sit on Acid, released during the New Beat era. Or perhaps you listened to the track The Most Wonderful Girl, which was part of the soundtrack of the motion picture Sliver. What did they have in common? They were both released by Lords of Acid, one of Belgium's most successful – and screwed up – dance projects.
Successful outside of Belgium that is (mostly in the USA), since the Lords of Acid never made it big in their home country – unlike Maurice Engelen's other project, Praga Khan. Indeed, the Lords are something of a cult band of international standing, despite releasing quite a bit of mediocre material as well.
But Belgium's unfamiliarity with the Lords of Acid has changed somewhat with the release of Farstucker, their latest release of new material. And the Lord's are still as sex-craved up as ever, providing you with a perfect blend of techno, rock and dance. But they sure as hell aren't subtle.
Farstucker is song after song after song about fetishes, fantasies and downright dirty sex, with lyrics such as I wanna be screwed by you, but anyone else will do
I wanna be screwed by you and you and you and you….! and Strap me up-Spank me up, Beat me up – Heat me up, Lover boy – bondage toy, Rubber creature, cover me with joy leaving little to the imagination.
The first tune on the album (and also a single, with a video that could be considered by some to belong in the 'XXX' category) Scrood Bi U is an extreme pop-metal track with a few lyrics derived from the Marilyn Monroe classic "I Want To Be Loved By You." In this case, The Lords flip the lyrics around to say, "I want to be screwed by you."
Also included on the album is a live version of I sit on Acid, certainly a great bonus. Rover take Over is quite a funny song, which starts out a bit slower, but rapidly becomes a favorite (who can resists Deborah, the Lord's lead singer, telling you that she 'feels so alive / wet and wild'. One of the highlights on Farstucker is the tune Sex Bomb, which is undoubtedly the most rocking song on the album.
But there all also some pretty weird moments on the album, for instance when the looped beats and guitars take a break and give way to a surprisingly soulful piano, interspersed with recorded sounds from a lesbian domination scene (the track Pain & Pleasure Concerto). This experimentation continues on the all-jazz instrumental Take Off and is revisited later on Dark Lover Rising and Lick My Chakra.
But don't fear, other tracks on the album give the disciples of the Lord's exactly what they want. Lucy's Fucking Sky and Feed My Hungry Soul are the best dance tracks the Lords of Acid have put out since 1994. These songs concentrate on precision beats and heavy synths in order to create a great effect.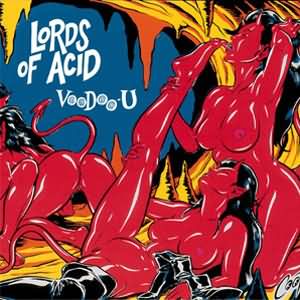 However, despite all of this variation, the album isn't as good as Voodoo U, released in 1994. Sporting an extremely sexy album cover by "devil girl" cartoon artist Coop and an album's worth of tracks that were not only danceable but listenable, Voodoo U remains the Lord's best album up to this moment. But that doesn't mean that Farstucker isn't worth your attention. On the contrary, the album is varied and there are plenty of tracks that deserve to be played loud!
So take out your little whip, put on a leather dress, take some drugs (just kidding boys and girls) and get ready for a wild night on the time with lots of sex, beats and heavy guitars… with the compliments of dancevibes.
Review written by Steviy
Welcome !
to DanceVibes, the site dedicated to belgian electronic music. We bring you daily updates on all that is happening in the dance scene.
more about dancevibes.be
Archives
Not so fresh news: