Lektroluv 5 compilation CD review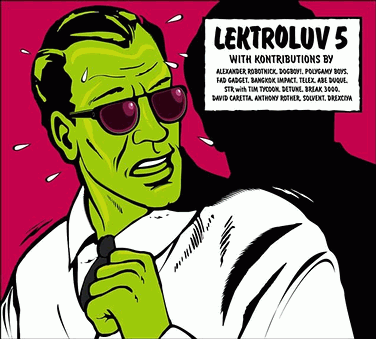 Buy Lektroluv 5 compilation CD
Not long ago, dancevibes.be reviewed Dr Lektroluv's third compilation CD Infekted by Dr Lektroluv.
Now it is time to take a look at the good doctor's latest project, Lektroluv 5, which comes hot on the heels of the doctor's previous collection Lektroluted.
It seems that our mysterious Dr Lektroluv has really discovered a magical recipe, serving us once again a mix of the latest electro gems and real electro classics. Of course, most of these tracks have been tried & tested by or green-faced friend on his weekly radio show, Switch, on StuBru (every Saturday).
Mixing sleaze with chique, old with new, accessible with obscure … Lektroluv 5 presents an exciting package. But understand this : quality definitely precedes attitude on this release. As such, Lektroluv 5 succeeds where so many other electro-compilations fail nowadays : it does not feel tired and it does not try to be experimental or freaky just for the sake of it.
One of my personal favorites on this album definitely is Dogboy!'s Transworld Electric. But there are many others : Telex's Moskow Discow for instance, the classic Dance Boy Dance by Alexander Robotnick or the other 'forgotten (?)' gem Lady Shave by Fat Gadget.
However, this is definitely the case of something old, something new … seeing that the Dr has also seen fit
to include the best of todays electro scene on the album (Anthony Rother, just to name one, who's 'Back Home' is a haunting track). Lektroluv 5 also introduces you to some lesser known tracks such as Champagne days, Cocaine nights by Abe Duque. And yes, it is a combination that works … works very well thank you.
If you bought the previous albums, make sure to add this one to your collection. For those of you who have yet to discover Dr Lektroluv I can say only one thing : what are you waiting for?
Keep in mind that the Dr. is currently on tour in Belgium until mid-July … make sure to pay him a visit and get a shot of pure electro.


Buy Lektroluv 5 compilation CD
Be sure to check out the Dr Lektroluv website!
Review written by Steviy
Welcome !
to DanceVibes, the site dedicated to belgian electronic music. We bring you daily updates on all that is happening in the dance scene.
more about dancevibes.be
Cool sites
Check out these sites:
Archives
Not so fresh news: