Lasgo – Some Things CD Album Review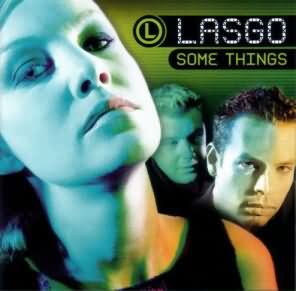 Buy Lasgo – Some Things CD Album –



Lasgo stormed the Belgian charts with their debut single Something in the summer of 2001. The track instantly became a hit and rightfully took its place in the hall of great commercial dance tracks, right between Turn the tide by Sylver and Innocence by the Mackenzie featuring Jessy. A lot has happened since that time. Lasgo released a highly successful second single, Alone, a full album (Some Things) and has even achieved chart success in the United Kingdom (with a top 10 debut !).
The group consists of three people: Evi Goffin (lead vocalist and 'face' of the group), Peter Luts (keyboard player and producer) and David Vervoort (keyboard player, producer, but also singer). The album tries to reflect the different talents of these three people. Although Evi sings on most of the tracks (including Alone and Something), the album does include an instrumental song (Cloud Surfers) and David sings lead vocals on two of the tracks (Don't Belong 2 U and Cry).
Most of you will already know the two singles Something and Alone. The track on the album (and also the first single) 'Something', is preceded by a nifty little instrumental intro (no beats, just a simple melody) – a perfect start for the album. But this is after all a dance album, so the beats quickly take first place. 'Something' was a very good first single, the lyrics are catchy (nice vocals by Evi) and so is the music. You'll be humming this tune for quite a while once you've heard it.
But in my opinion, the second single, 'Alone' surpasses this with ease. This track is even more catchy than Something and has a better melody. Listening to Evi sing Now I stand here alone in the dark … without u just has got to make u dance. A perfect track for the dance floor (whether that dance floor is in a club, a party or just the open space in your bedroom).
A big thumbs up for Lasgo so far: there are already two 'must-have' singles on the album.
But unfortunately, there are some slip-ups on the rest of the album. There certainly are a few more highlights, but also some tracks that can only be regarded as 'fillers'. The good news is that all of the tracks on the album are pretty catchy and that Evi certainly earns her place as 'leading lady' of the group. The bad news is that some of the songs really sound too similar and as such – although there are two singers (and an instrumental track) – there is not enough diversity. Indeed, everything feels just a bit too 'commercial'.
But let's start with the good stuff. I've already mentioned the two excellent tracks Alone and Something, but you can also categorize Blue in that category. Strong tune, nice vocals, pretty upbeat … just a great song to listen (or dance) to. One of my personal favourites is the instrumental track, Cloud Surfers. Just close your eyes and listen to it over and over again. Or even better: turn up the volume and dance! One of the last songs on the album is Pray. Evi's voice is very strong in the song and together with a slightly different beat and a strong melody it really shines. Note though that both songs don't differ all that much from Alone or Something.
And how does David fare? The first track on the album with vocals done by David is Don't Belong 2 U. It's also one of the better songs on the album. It has a different feel from the rest of the dance tracks on the album, which makes it stand out.
Unfortunately, the second song by David didn't do anything for me. Cry is a run of the mill ballad that doesn't evoke any emotions. Standard stuff, best skipped. Don't get me wrong, I like a good ballad when I hear one, this just isn't a good ballad. It also sits uneasy between the rest of the tracks, as if someone remembered in the end that every album needs a ballad.
There are two more tracks sang by Evi: Heaven and Feelings. Heaven, at the beginning of the album, is easily recognisable, but misses that little bit extra that makes a good track out of 'just a track'. The last track on the album, Feelings, also isn't a bad song, but by this time you will know what I mean when I said that some of the tracks feel a bit repetitive.
The album ends with two remixes: A Peter Luts remix of Something and an Ian Van Dahl remix of Alone. Nice additions to the album and certainly a great bonus for the fans.
All in all, Lasgo's debut album will not go unnoticed. It contains some killer tracks, but also some songs that don't cut it. Don't get me wrong: all of the dance tracks on the album (they make of ninety per cent of the disc) are catchy and fun, good material, but some just seem to be 'carbon copies' of Alone and Something. For something truly different, you will have to look to the instrumental song or the dance track with vocals by David.
One or more accomplished ballads would also have been welcome. But let's end on a high note: Lasgo's debut album is a strong release, with some must-have tracks and as such, should definitely be part of your collection. With a little more effort a second album could be excellent.
You can listen to audio samples on the official Lasgo site !
Buy Lasgo – Some Things CD Album –
Review written by Steviy
Welcome !
to DanceVibes, the site dedicated to belgian electronic music. We bring you daily updates on all that is happening in the dance scene.
more about dancevibes.be
Cool sites
Check out these sites:
Archives
Not so fresh news: