Katerine – Overdrive CD review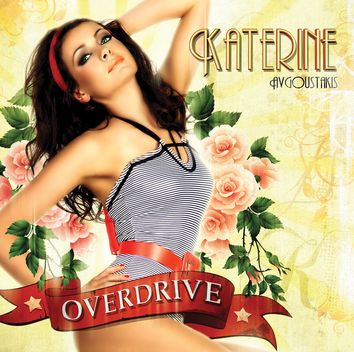 It's not that long ago that Katerine started out as a shy girl on the Belgium Star Academy. In the beginning of Star Academy she didn't really catch my eye, but that changed when she performed Moloko's Forever More and Sylver's Love is Angel, where she kinda outperformed Silvy. One of the judges told her she had the perfect voice for pop and dance music and she proves that again with her new album Overdrive, for which she teamed up with some of Belgium's best pop/dance producers Yves Guillard (Hadise), Frank Jordens (Kaye Styles), Mon'S Jegers, Yannick Fonderie and Regi from Milk Inc.
The album contains no less than 17 tracks (15 original songs and 2 remixes) and includes the singles Ultrasonic, Upon the Catwalk, Shut Your Mouth, He's not me, Don't put it on me and Livewire. You might know some off them (Shut Your Mind, Upon the catwalk), but probably not all seeing that some didn't really end up high on the charts.
We here at Dancevibes love Shut Your Mouth (not only for the sexy video) because of the great electro-feel and Upon the catwalk (that sexy video again) seeing that it is just a great pop track. The minimalistic Ultrasonic and the very simple upbeat Livewire are also fun dance tracks, which means that Katerine got off to a great start. And then of course there is the excellent He's not like you, which is one of my personal favorites on the album (the right vibe, the right voice … and yes it shows that the girl can really sing). Don't put it on me is simple pop, not bad, but no special.
But what we really want to know is how the the rest of the album shapes up. For the first time Katerine collaborated on two tracks: Treat me like a lady, which has a very nineties Kylie sound. Good, but definitely not in the same league as Here come all the boys, just to name one of her previous singles. Loose my mind is a very poppy song, and Katerine pulls it off nicely. It also grows on you and is definitely a very good addition to the album.
And then she gets a bit naughty. In No strings attached she sighs I just wanna have sex, not too complex … We are all hoping for a video here Katerine! They throw a bit of a Prince sound in there too and the result is a hot track. Definitely a track to show off your moves on the dancefloor. That's 7 songs out of 8 that we like already, not bad at all.
Unfortunately Burn it down is not my cup of tea. Simplistic – and a bit tired – pop music which doesn't go anywhere, making it just a bit of a space filler in our opinion. Skip it. Luckely the next track Some Boys Some Guys is of much higher quality. An original sound, a bit of an offbeat rythm in the mix with Katerine's great voice puts a smile on our face. And then Katerine slows it down on Lazy Sunday. You can easily put this track on a Kylie or Madonna album and Katerine shines yet again on this track.
Katerine misses the mark a bit with the remake of Roxanne's Re-arrange (called Time to make a change on this album). The synth sound is cool, the slow rythm is compelling and Katerine's sounds quite haunting, but the original was such a great track (and still one of our all time favorites) that she was bound not to do better. And unfortunately, Katerine's version doesn't live up to the original.
But we end in style with Back Off on which Katerine collaborates with Regi. It's a bit of a strange mix between Milk Inc like vocals and a very non-Milk inc electrobeat. Perhaps not instantly appealing, but after a couple of times you really appreciate the song (a tip: play it very loud).  The remixes are a nice bonus, giving an alternate sound to some already great songs.
The verdict? Overall we have an album filled with good and some outstanding pop/dance songs, so we easily forgive Katerine for the very few weaker tracks on the album. In our opinion, she can rightfully call herself Belgium's queen of pop. We even think Belgium is getting a bit too small for Katerine, so let's hope other countries pick up this album quickly. When was the last time we had such a sexy export product?
Welcome !
to DanceVibes, the site dedicated to belgian electronic music. We bring you daily updates on all that is happening in the dance scene.
more about dancevibes.be
Cool sites
Check out these sites:
Archives
Not so fresh news: