Jessy – Look @ me now cd single review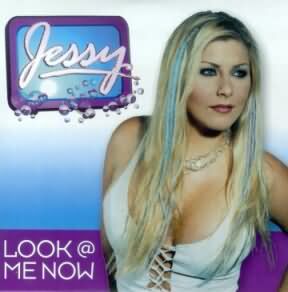 It's been a while since Innocence was released … I can see the magic of the light, it feels so good, you make me fly. The MacKenzie featuring Jessy took the dance world by surprise, scoring many hits (Innocence, Alive, Falling in Love, just to name a few). But things change and The MacKenzie and Jessy decided to split. Jessy was replaced with Kelly and for a while, nobody heard a thing about Jessy.
But now she is back with her first solo release, Look @ me now. The single was written and produced by Regi Penxten, Filip Vandueren and Jessy herself, who also wrote the lyrics. And that Jessy is determined to reclaim her place in the Belgian dance scene is obvious: the lyrics of the song clearly convey this message. Jessy sings 'Look at me now, I am stronger than before' … a strong statement.
The song itself is all about Jessy's wonderful voice. Indeed, Jessy has always been a great singer (and perhaps one of the few leading ladies of the dance scene that sings 'live' and does that with the same quality as on the cd) and it's a smart move to put all of the focus on Jessy's voice. The beat itself is not very hard, but gets the job done. The song perhaps misses that certain something that will make it go all the way to the top.
But as a first solo single, it's a good song. Jessy is still a superb singer and her distinct sound adds a lot to an otherwise somewhat average song. It remains a skillful production though and it's certainly worthwhile to check it out. As an added bonus, you get a Dj Philip remix of the song on the CD.
In the end, I can say this: I am confident that there are still greater things to come for Jessy.
Thanks to David from MOSTIKO for the review CD
Buy Jessy – Look @ me now cd single:


Review written by Steviy
Welcome !
to DanceVibes, the site dedicated to belgian electronic music. We bring you daily updates on all that is happening in the dance scene.
more about dancevibes.be
Cool sites
Check out these sites:
Archives
Not so fresh news: