Illusion Saturn Edition (2CD) review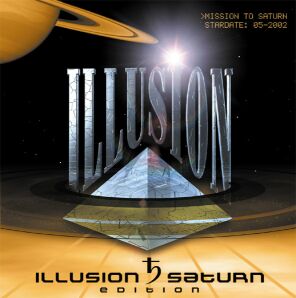 Illusion is a well-known name in the Belgian club scene. But that is not all. Illusion has also brought us several successful compilation CDs with all the biggest house-anthems and retro tracks that are played in the club and which are remixed by the DJҳ and producers from the Illusion team. The compilation albums are divided into several series: the Alphabet, Trance n Dance, Solar System and Retro Classic series.
On May 16th, 2002 a new volume was released in the Solar System series, namely Saturn. The CD features many great tracks such as the new hit single Sleepwalker by Milk Inc (in a special DJ Philip remix) and the excellent club track Lethal Industry by DJ Tiesto (Svenson and Gielen remix). Other commercial tracks include Minimalistix, Close Cover (Close but undercover Filterheadz remix) and 4 Strings (Take Me Away).
Most of the remixes just beg to be played at maximum volume (although your parents will probably think otherwise), but some are just a bit too strung out (but that is a problem that most compilation CDs have: it is almost impossible to make a double CD that does not have some weaker moments).
The CD also includes several tracks that will be known to real clubheads, but not to the general public. However, this is certainly not a bad thing, seeing that these tracks are often pretty hot (or just plain fun, just listen to Never Fuck). In addition, most of the remixes manage to add something to the tracks.
In the end, the CD manages to captures the atmosphere of the Illusion club perfectly and will certainly include several tracks that will be to your liking (commercial or otherwise). As such, it is a worthy addition to the Illusion CD series and a CD that you should check out if you like your dance music loud and hard.

Review written by Steviy
Welcome !
to DanceVibes, the site dedicated to belgian electronic music. We bring you daily updates on all that is happening in the dance scene.
more about dancevibes.be
Cool sites
Check out these sites:
Archives
Not so fresh news: