Fiocco – Afflitto 2003 vinyl Part 1 & 2
Back in 1997 Fiocco scored one of their biggest hits in Belgium with the superb trancer Afflitto. Today (end of May 2003) two new vinyls appeared on the brandnew label Nitrox (which is a sublabel of A&S) with the original version and new remixes.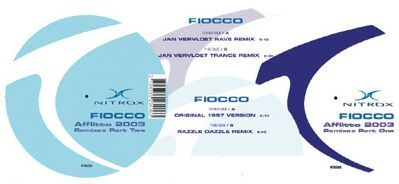 Part 1 contains the Jan Vervloet Rave remix and Jan Vervloet Trance remix while Part 2 contains the Original 1997 version and the Razzle Dazzle remix.
All remixes are of great quality and are on the same level then the original. It's difficult to pick one out, some are a bit harder (Razzle Dazzle remix, Jan Vervloet Rave remix) while the others are more trancier… so it all depends on your taste!
Hopefully this track will be (re)-discovered by many DJs all around the world!
Special thanks to Jan Vervloet
Review written by Wim.
Welcome !
to DanceVibes, the site dedicated to belgian electronic music. We bring you daily updates on all that is happening in the dance scene.
more about dancevibes.be
Cool sites
Check out these sites:
Archives
Not so fresh news: