Electro Baby compilation CD review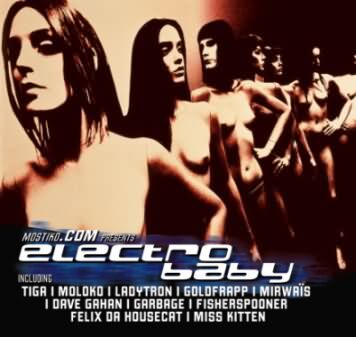 Electro Baby compilation CD
Once every few months a CD is released that you just have to buy … and this month that CD is 'Electro Baby' a new compilation (2 CD's) released by Mostiko. This compilation provides you with some essential tracks and I am already totally hooked …
Opener Tiga (Hot in here) is actually one of the lesser songs on this compilation (which says a lot about the quality of the other songs). But after that it's heaven. Moloko has created another excellent song (Forever More), which is the second track on Electro Baby. The FKEK Remix is absolutely hot. Next up is Goldfrapp with 'Train' one of my personal favorites on this compilation.
But the fun doesn't end there. Belgian band 'Vive la Fête' has donated 'Touche pas', undoubtedly one of the best songs on Electro Baby (just listen to that fragile voice). So, we already have 4 excellent tracks, but Mostiko has gone all the way and included many more quality tracks on the first CD. Fischerspooner's Emerge is a breathtaking and very hectic track.
But be sure to listen to 'Rippin Kittin' by Golden Boy and Miss Kittin. Hearing Miss Kitten sing, almost without emotion, I want to take a life tonight must send shivers up your spine. There are also two great Belgian dance diva's on the first disc : Roxane with Fashion and Biba Binoche (Si Douce). Especially the latter deserves more media attention and a larger audience.
So and excellent first CD, but what about the second one? Luckily, it is as good as the first. Ladytron (Blue Jeans), Benny Benassi (Satisfaction) and DJ Spud (Set it Off) are all great tracks that you all should dance to. Bucci Bag, by Andrea Doria, is hilarious and has been a smash club hit for quite some time. Mirwais mostly known for his collaboration with Madonna on Music and American Life, is a great songwriter, as is proven by Naïve Song.
And there's so much more : my man, Felix da Housecat (if he plays in a club near you : GO !!!) has created another dance classic with Madame Hollywood, Tomcraft (Loneliness) never gets boring, and so on.
Actually, this review is rather useless, seeing that it all boils down to one thing : if you like good music, BUY THIS CD (it's a shame if you overlook this one …).

Electro Baby compilation CD
Review written by Steviy
Welcome !
to DanceVibes, the site dedicated to belgian electronic music. We bring you daily updates on all that is happening in the dance scene.
more about dancevibes.be
Cool sites
Check out these sites:
Archives
Not so fresh news: