Dee Dee – The One CD Single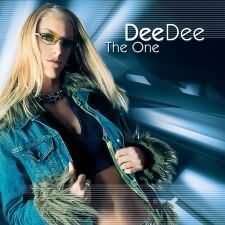 Buy Dee Dee – The One cd single:

It was not so long ago that Dee Dee surprised us all with the release of her first single Forever which almost instantly became a classic Belgian dance track. For me, Forever has certainly become one of my favourite commercial dance tracks. The track oozed a particular kind of magic that put it on the same level as Innocence by The Mackenzie feat. Jessy and Turn the tide by Sylver. Make sure that 'Forever' is part of your collection.
Forever was not only a great track, it turned out be a quite a big hit too. As such, everyone expected the second single to be released quickly after Forever dropped out of the charts. However this was not the
case. It took quite some time to come up with a suitable successor to Forever. But now the wait is over seeing that Dee Dee has released her second single The One.
You'll notice immediately that Dee Dee and her producers did not want to release a carbon copy of Forever as a second single (which would have been a safe, but not very original thing to do). The One clearly has a different sound than Forever, which should always be applauded in a world where a lot
of mediocre (read: same song, somewhat different vocals) dance products are released.
The song really makes you wanne dance and has a great middle part that is just a perfect high for when you are on the dance floor. There is also a somewhat more prominent place for Deedee's vocals, which certainly is a good thing. All in all, another great Belgian dance track and certainly worthy of your attention.
But is it as good as Forever? Opinions differ, but for me Forever remains the better track out of the two. Forever had the perfect mix of beats and vocals, a great tune and catchy lyrics. The One certainly
tries to achieve the same and nearly succeeds, but seems to have lost some of the spontaneity that made Forever a classic.
But don't let this turn you off: you should definitely check out 'The One'. It can easily withstand most of the competition in the current charts. Unfortunately, it appears that the song won't have the same
impact on the Belgian general Ultratop chart, failing to get into the top 30 (although I might add, it certainly deserved a top 10 position). But perhaps the song will fare better outside of Belgium.
All in all, the release of Deedee's second single wets my appetite for a complete album (which will probably appear in the not too far future). Let's hope that this album will also contain a diverse set of songs and perhaps a track to upstage Forever.
Thanks to Stijn from A&S for the review CD
Buy Dee Dee – The One cd single:

Review written by Steviy
Welcome !
to DanceVibes, the site dedicated to belgian electronic music. We bring you daily updates on all that is happening in the dance scene.
more about dancevibes.be
Cool sites
Check out these sites:
Archives
Not so fresh news: