BB – Je chante pour toi cdsingle review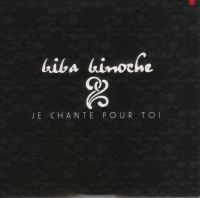 Je Chante pour Toi was Biba Binoche's entry for the 2004 Belgian Eurosong tryouts.
Although Biba did not make it to the finals – despite a great show which featered the drag queen Star –
Mostiko has decided to release Je Chante pour Toi as a single.
And that is definitely a good decision. After all, as a result of all the commotion (a music journalist who was part of the jury launched a very personal and wholly undeserved attack on Biba just after her performance), one might forget that Je Chante pour Toi is a very good electro single.
That said, one listen to the track also makes it clear that this is not a song for a Eurovision context.
The song is miles apart from most of the Eurosong tracks this year. After all – excluding the commercial
but very catchy dance single by Xandee – almost songs were either complete rip-offs of one or more well-known tracks or really bad songs that just made you want to smash your TV or radio. No this song does not belong in the Eurovision circuit, this song belongs in a club, a bar, …
Don't get me wrong, when I say this is a track which should be played in a club, I do not mean that it is a track with big beats. On the contrary, Je Chante pour Toi has a very sensual feel to it, with a lot of spoken – almost fragile – vocals by Biba. The guitar adds a subtle latin flavor to the track, and blends well with the multitude of electronic sounds. Moreover, the chorus is very catchy. Musically, the single builds on the sound we already know from Initials BB, Biba's excellent first album. However, this is not a quick rehash of one of the tracks on Initials BB : it is sufficiently different to make you sit up and listen, without going in a completely new direction. With all these qualities, it has quickly become one of my personal favorites of the moment.
Note that the single is a two-track disc : the first track is the radio edit, while the second track is a Frank T remix. Although the remix isn't bad, it adds little to an already very strong song.
So what's the conclusion for this new Biba Binoche release? Well, this is sheer quality.
It is a great song that would certainly have been a good addition for Biba's first album, Initials BB.
But perhaps, Je Chante pour Toi already gives us a glimpse of what we could expect from a possible second Biba Binoche album.
As Biba sings herself … Ne soit pas triste, ceci n'est pas la fin. Je Chante pour Toi should be part of your CD collect ion … so go out, buy, and enjoy this great new single !
Buy BB – Je Chante pour Toi cd single: 

Thanks to David from Mostiko for the review CD
Welcome !
to DanceVibes, the site dedicated to belgian electronic music. We bring you daily updates on all that is happening in the dance scene.
more about dancevibes.be
Cool sites
Check out these sites:
Archives
Not so fresh news: