Whyzer interview
dancevibes.be had a great interview with Caroline and Yannick of the Belgian dance formation Whyzer. (you'll probably know their hit Teach me how) Whyzer will be releasing their new single Colour the night very soon !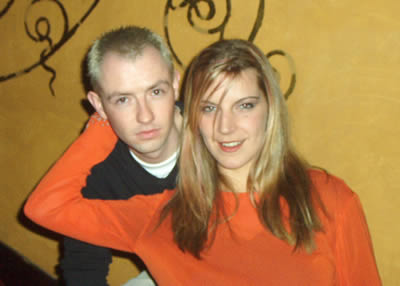 Yannick and Caroline from Whyzer
dancevibes: How did your career in musicbizz start?
Yannick: I started out at a regional radio station, Top Radio and from there on I worked in some clubs and started experimenting … for instance taking some samples from movies and putting them to music.
Caroline: I just met Yannick in a club, we started talking and became friends. Not much later, Yannick told me that he started working on a dance project and asked me if I wanted to sing … that's how I took my first steps in showbizz.
dancevibes: How did you come up with the name Whyzer?
Caroline: It's pretty simple. Yannick started the group so we just took the first letter of his name (in English 'y' is pronounced as 'why'). But 'why' wasn't that call so we changed it into 'Whyzer' which was a lot more catchy.
dancevibes: What are the plans for 'Whyzer'? What do you want to achieve with this group?
Yannick: We want to take this project as far as possible, pulling out all stops. But for now, we will see how our next single 'Colour the Night' is received. It's already being played in major clubs and a commercial release will follow soon. But that's not the end of it: we are also looking beyond Belgium. There already is a deal with a record label in Canada and other countries – Israel, Poland, Spain – will follow soon.
dancevibes: Will there be a new promo tour for the release of 'Colour the Night'?
Yannick: Probably not. We already did a promotional tour for 'Teach me how' and our first single Love is calling.
dancevibes: What are the first reactions on your new single?
Caroline: The song has already been part of our show for approximately 5 months now, albeit in a different version. (showversion) Reactions have always been very positive, but now that we reworked the song, they have become even better. I was a bit surprised myself with all the positive response we've been getting for Colour the Night.
Yannick: Radio Donna likes the single so I hope Colour the night will eventually end up in their playlist. With Teach me how we already got playlist on Donna, I hope we can do that again. We also sent out white-label promo vinyls to belgian DJs and received very good ratings back: 7.5, 9, … Only a few DJs didn't like Colour the night at all.
dancevibes: With whom would you like to work for eg. a future single ? (Belgian or international ?)
Yannick: We would like to work together with Edwige (from The Oh and Edvika) one time.
Caroline: I'm really looking up to some people, it's rather difficult to choose one out of them 🙂
dancevibes: Are you busy with other projects too, besides Whyzer ?
Caroline: We fully concentrate on Whyzer, we're already very busy with that. I also think that if you have multiple projects, you'll not be able to really get the best out of the different projects. We want to get everything out of Whyzer.
dancevibes: Are there any plans for an album ?
Yannick: At the moment we don't have really concrete plans yet. The recordcompany is evaluating it though.
dancevibes: Is there a videoclip coming ?
Yannick: Originally we wanted to do a videoclip for Teach me how but it was too costly for Belgium alone. A remix is being made of Colour the night by an internationally known producer which will probably become a 'bomb' – I can't say yet who the remixer is though. This remix will be released in the UK and Germany and the making of the videoclip is depending on Universal and the success of the remix. It's offcourse a fact that a videoclip does a lot – people get the know the face of the group, … The videoclip would offcourse be built mostly around Caroline 🙂
dancevibes: Your collegues Evy (Lasgo), … got on the cover of P-Magazine, Che… would you like to do that too ?
Caroline: That's certainly possible. It does give a lot of recognition too 🙂
dancevibes: Are you going to release non-dance music too ? Eg. a ballad ?
Caroline: If the full CD is coming through, there will probably be a ballad on it. But the singles will remain dance, maybe even more dance.
dancevibes: What do you think about MP3, Audiogalaxy, Kazaa ?
Yannick: It's good to get attention from other countries and to become better known worldwide, but royalty wise there are only losses, no gains. Midem in Cannes is still the most important fair to get licenses in foreign countries.
dancevibes: Who is your favourite DJ ?
Caroline: It's been a very long time ago since I last went to a club. I really like those local little parties where you know a lot of people 🙂
Yannick: For me, it's the same story. I still DJ during the weekends but I don't regurarly visit clubs anymore.
dancevibes: Which track is in your opinion the best (Belgian) dance track ever made ?
Caroline: Milk Inc. – Land of the living
Yannick: Rui Da Silva with Touch me internationally-wise. I also found the latest Lasgo full album Some things to be splendid.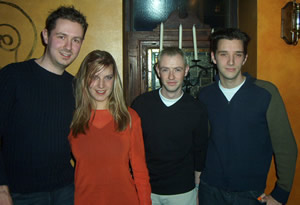 Steven (dancevibes), Caroline, Yannick from Whyzer and Wim (dancevibes)
dancevibes: Are there any new remixes of Colour the night planned ?
Yannick: We already have the Original mix and the trancy Creative Juice remix. There are no concrete plans yet for more remixes but if foreign countries ask for them, yes please 🙂
dancevibes: Do you have some anecdotes from the road ?
Caroline: I have very good memories of the Free Feesten 2001, although the evening didn't start well. Our dancers (the previous ones) suddenly dissappeared a half an hour before our performance. They seemed to have something else todo. That was the first time I had to perform without my act before an audience of 10000 people. I was soo pissed off that I did my best performance till now ! Also we once performed in the Netherlands, it's nice to know you are being recognised in foreign countries. If possible we would really like to do some performances in Germany and the UK – those are the most important European countries to kickstart your project!
dancevibes: Do you think dance will exist forever – or will it end ?
Yannick: I don't think it'll end. Dance is the successor of newbeat and new beat was an evolution of the previous style. I think dance will always exist but offcourse have some evolution over time.
Caroline: If you keep on bringing the same you'll probably get behind and lose your audience. We keep up with the evolutions and I think if you're good enough and receive recognition you're able to last at least a few years.
dancevibes: What do you think about dance-remixes of old 80ies songs ? (eg. Mad House, Kate Ryan, Solid Solution,…) Would you like to cover an 80ies hit too ?
Yannick: We already thought about this. If you're able to enhance the original in the style you're doing your cover, then I would do it. Personally I think we now have an overdosis of these covers. If I ever would do one, I would take The way I do from Melissa Etheridge.
Caroline: If the cover is only made to score, I'm against it. Desenchantee is a good cover, I would have chosen that one too. I would take a studentparty track for a cover.
dancevibes.be notes:

Love is calling

Teach me how
Check the official Whyzer site !
This interview was made by Wim and Steviy. Thanks to Whyzer for making this possible !
Welcome !
to DanceVibes, the site dedicated to belgian electronic music. We bring you daily updates on all that is happening in the dance scene.
more about dancevibes.be
Cool sites
Check out these sites:
Archives
Not so fresh news: