Red Carpet: interview with Den Hétrix, Raffa and Ramona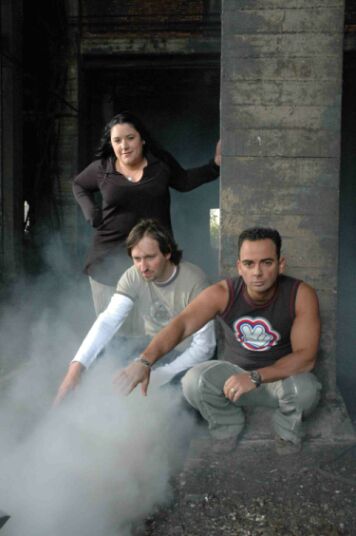 Could you first tell us a bit about yourself? (Hobbies, interests, ..)
Patrick Bruyndonx: In my childhood I spent a lot of time riding the bicycle and playing records
in the basement of my parents house discovering all kinds of music. After a few years I knew my goal was
to become a famous DJ. Around the age of 20 I started dj'ing profesionally in all mainstream clubs in belgium.
Raffaele Brescia: My name is Raffaele Brescia and there is not so much to tell about me except
that before making music I used to play for the Italian national football-team. But then after winning
tree world-cups I got bored and quit playing football. 😉 No, no ,no… I'm just joking! It all started like this.
At the age of seven I suffered from a illness called the banging-disease.
I used to play the drums on literally everything! On my study-desk, the kitchen-table, panes, bottles, you name it.
So this inspired my parents to let me take music-lessons. Music became my hobby and it soon developed
into a real passion. As the years passed by I practically spent all of my time in building up my own little home studio
and learning to produce music. Because this was MY DREAM… to become a famous musician!
Ramona Korber: Hi I'm Ramona Korber, I'm 24. Since I was a little girl singing has been my passion.
I love hanging out with my friends, see movies, …
How did you enter the DJ club scene ?
Patrick Bruyndonx: A friend introduced me to somebody who owned a small bar, where I could start playing mondaynights for a very small crowd if there was any.
Raffaele Brescia: Some five years ago I started producing with Silvano Mele, a good friend of mine who's a DJ. This resulted in our first track 'City of Angels' It was released on the 'IT-record' label and reached the Dutch dance charts at number 9. This really gave me the taste for more!
Which styles do you play at Club Industria ? In which clubs have you been playing?
Patrick Bruyndonx: I try to bring sexy smooth housemusic. I've been playing in the following clubs: Orlando, Highstreet, Club Rio,… and last both not least Club Industria.
How would you describe Club Industria ?
Patrick Bruyndonx: Soul Heaven!
What were your best DJ gigs? Best memories?
Patrick Bruyndonx: 4 years ago I played in a open air festival in Bogota (Columbia), my first big crowd. 20.000 dancing people!!!
When did you start producing and why ?
Patrick Bruyndonx: I started producing with my friend Andy Janssens
in 1993 because I had a dream: playing my own record someday.
Raffaele Brescia: Like a said before, I started producing on a professional basis some five years ago. And I really do it for the fun of it. Simple as that! I just like to play the piano, to write songs. I enjoy fooling around in the studio. I feel like a kid playing with toys.
I always liked working with electronics and computers. I graduated in electronics. So the combination of music and electronics, to me fitted like a glove.
How did you meet the producers? Can you describe 'the making of…' of this great track ?
Ramona Korber: It happened in a very strange way. I was singing in a pub and Raf was listening there. He thought I had a beautiful voice. He approched me and asked if I was interested in making a song together. I thought why not. During the conversation it seemed that we were neighbours and we didn't even knew it. Although it was a long hard day, recording the song went very easily.
We had a lot of fun and i'm eager for more…
Is the song going to be released in Italy? How did you end up in Belgium ?
Ramona Korber: Maybe because I was born here 🙂 We will see if the song is going to be released in Italy. Who knows…
Can you give an overview of the projects you are involved with ?
Patrick Bruyndonx: Da Rick, Technotronic, Moon, Romy Costa, Sweet Coffee and offcourse Red Carpet
Raffaele Brescia: Together with Patrick I'm also the producer/songwriter for Sweet Coffee. This summer, after three singles, we released our first Sweet Coffee album. It's called Memory Lane and it's already signed in many countries. Currently besides all the gigs Patrick and I are working on some new songs for Red Carpet. I'm also writing some new songs for a new solo-project.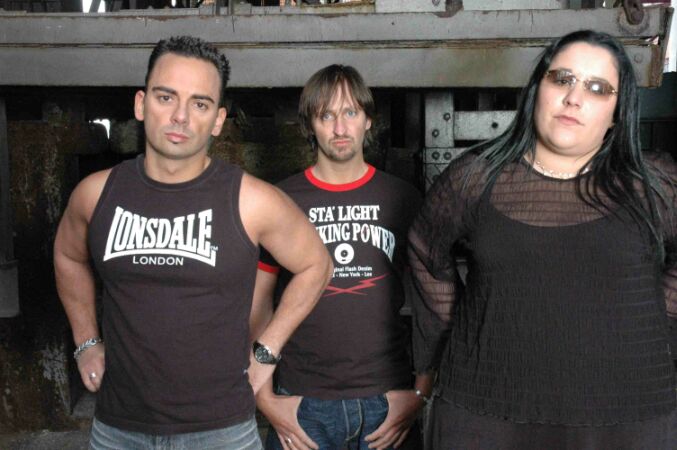 How did the project Red Carpet start ?
Raffaele Brescia: I met Ramona in a bar where she was singing. The strong soulful sound of her voice really blew me away! I honestly did not know her but funny enough she tolled me she lived in my street! I asked for her number and I told her we would contact her once we had a song that fitted her voice.
Some six months after that Patrick and I wrote 'Alright' we needed some strong soul vocals so naturally… we called Ramona! And that's how Red Carpet started.
Patrick Bruyndonx: Beside Sweet Coffee I wanted to do something different with Raf so one day he introduced me to a great vocalist 'Ramona' and Red Carpet was born.
Are there plans for follow up singles ?
Patrick Bruyndonx: Offcourse we're working on it.
Raffaele Brescia: Sure, I hope there will be an album! But it all depends on the sells.
What are the reactions from other countries ? Will the track be released in other countries?
Patrick Bruyndonx: At the moment we definitely know that Positiva is gonna release it in the UK. The reactions on the record are very good.
Raffaele Brescia: There's a lot of interest from other countries. Currently it's signed in the UK to Positiva. Something I'm very proud of so I hope it'll do the same in the UK as it did in Belgium.
You're also producing for Sweet Coffee. Is there a difference in style between the two projects? What are the reactions on the debut album Memory lane?
Patrick Bruyndonx: Different vibe different goal. Memory lane is doing very good as it has been signed at the moment in 17 countries.
Raffaele Brescia: Yes we recently released our first album called Memory Lane. It reached top 30 in Belgium in 2 weeks. And it's already signed in a lot of countries.
The differences between Sweet Coffee and Red Carpet are for sure the singer and the music. Samia the singer of Sweet Coffee has a very soft 'shade-like' voice so we produce the Sweet Coffee songs so that it fits a soft soul-vocal. While with Red Carpet it's almost like having a Jocelyn Brown vocal on the tracks. With Sweet Coffee we also do live-sets where we are reinforced by 3 extra musicians for some life bass, guitar, sax and percussion.
With Red Carpet we do DJ-sets with live vocals.
What advice would you give for someone who wants to break into music production. In particular, what software or hardware would you recommend for starters to learn music production considering a limited budget?
Patrick Bruyndonx: Never give up, Rome wasn't build in 'one day' !!!
It's not the equipment but the ideas that count.
Raffaele Brescia: Some basic music lessons can be very handy!
Software or hardware, it's a personal choice. If you are on a limited budget
I suggest to go for software. But there is one very important rule: know your equipment! And always keep this in mind… reach for the stars and you'll get to the moon!
What are your goals/dreams for 2004? What can we expect of you in the future ?
Patrick Bruyndonx: More releases and offcourse more DJ-gigs. Reach for the stars and you'll get to the moon!
Raffaele Brescia: A world-hit with Red Carpet or Sweet Coffee would be nice!!! In the near future I'm also going to focus more on my DJ'ing. And naturally you can expect some new releases of Red Carpet, Sweet Coffee and other new projects.
Ramona Korber: Alright at number 1. Hopefully the beginning is Belgium, then Europe, then …..
What do you think about selling music via internet ? Where do you think the music bizz is going ?
Patrick Bruyndonx: If it's respecting the musicians and the recordcompanies it's ok with me. As for what the music bizz goes, only the strong will survive.
Raffaele Brescia: I think the internet can be a useful music-source but it must be controlled. The internet is going to be the future for the music-bizz. On the other hand, it's a bit sad, because I really liked buying my CD's or vinyl's in these little record-stores. But it'll all remain down memory lane.
What do you think about the dance scene in Belgium ? What are your favourite Belgian dancetracks ? International tracks? How do you see the future of this ?
Patrick Bruyndonx: It's doing very well, we all try to do ower best.
My favourite Belgian dance track is Swirll People – Family vacation. Internationally: DJ Chus – That feeling. The future: If I would only know…
Raffaele Brescia: I really like the fact that there's a growing appreciation towards groove-music. I have a lot of favourite Belgian and International dance-tracks.
So that's a difficult question. I'll name a few of my favourite producers. Junior Jack for sure is a man where we can be very proud of. Buscemi, Sven Van Hees, Olav Basoski, Boris Duglosh, Full Intension, Roger Sanchez, Armand Van Helden, Pete Heller… there are so many!
Are there touring plans ?
Ramona Korber: Let's hope. Keep our fingers crossed!!!
Anything you would like to say to the dancevibes visitors ?
Patrick Bruyndonx: Keep on dancing!
Raffaele Brescia: Big thanx for passing by! 😉 Peace!
Ramona Korber: Buy the single and Enjoy!!!!!!
This interview was made by Wim.
Welcome !
to DanceVibes, the site dedicated to belgian electronic music. We bring you daily updates on all that is happening in the dance scene.
more about dancevibes.be
Cool sites
Check out these sites:
Archives
Not so fresh news: