Oxyd and 2 Black 4 U interview
We're very pleased that we can present you an interview with 2 black 4 U and Oxyd (many thanks to Fred, Angelica and Peggy!), known from the hits So Right, Stormy Weather and Find a Way. Let's fire the questions!
1) How did you get into the musicbusiness ?
First of all, I have been dj-ing for years. (I won't say how many years, but *many*).
And then I switched to producing music because I like playing racinggames on a computer. Okay, some more details: I had a MAC computer but I didn't find any racinggames. That's why I got rid of that computer and bought a Windows pc.
My wife then had the idea to give me Beat Machine as a present. Beat Machine is a software mini-sequencer where you can load samples into and make remixes with it.
The first remix I created was a remix of a 2 Fabiola song. When finished I tried this remix in the Poco Loco club where I was a DJ at that time. It was fun to be able to play something of your own !
Step by step I started learning how electronic music was produced by reading various magazines. Midi, sequencers, … and a few months later I created the song Poco Loco ! The rest is history…
2) How did you meet the other people of Oxyd and 2 Black 4 U?
Angelica, Fred and Peggy from Oxyd and 2 Black 4 U
My previous manager introduced me to Peggy and that's how I met her. At that time I was looking for a singer for music I produced myself. She can sing very good so I was pretty happy :-)… that's how I got a singer for 2 Black 4 U.
Angelica is a different story. She has been friends already for a long-time with Peggy, and you can already guess what happened ! Oxyd was born!
3) How did you come up with the group names: Poco Loco Gang, 2 Black 4 U, Oxyd ?
Poco loco gang: I was still dj-ing in dancing Poco Loco back then. The club was not doing too good and that's why I got the idea to make a track to promote the club. I think we succeeded doing that :-). We were also a little bit crazy (and still are!)
2 Black 4 U is another story. My previous manager wanted me to make happy music only. The more serious dancemusic I created was to dark and to difficult for him.
Oxyd is the name of a club in Turkey where I was on holidays.
4) Are you still DJ at the Poco Loco club ?
Actually, I'm searching for a new club to DJ. DJ-ing means everything to me! Being able to get people moving on the dancefloor is just fantastic. I just recently stopped playing at Poco Loco club because of circumstances.
5) Why did you quit/stop the Poco Loco gang ?
That's due to problems with the management. We were naive, after all it was our first project. A bit of a malafide manager who created unclear situations and agreements, who took the wrong descisions and when it came to royalties, he started to act very strange. If you don't get paid, you don't keep working. And it was no more fun too.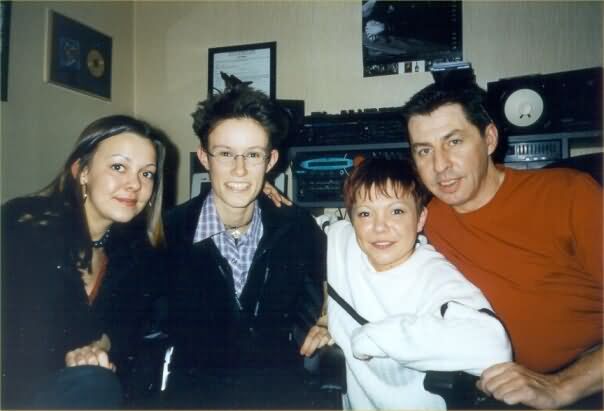 Singer Peggy from 2 Black 4 U, Bren from dancevibes.be, singer Angelica from Oxyd and Fred
6) Are you busy with other projects, remixes, singles ? Any stuff to be released soon ?
The most important projects are of course 2 Black 4U and Oxyd.
2 Black 4 U will release a new track at the end of April called Never Alone, It'll be released on vinyl and CD single.
Oxyd just released a single called Find a way.
We don't know yet what will be the follow up, but we have already some possible candidates ready! I created in the meantime also a 'carnaval' song and maybe that will even get released.
And there is more coming: I have got a request from Bonzai records to produce a new single for Sunrise. But the fact that the singer of Sunrise, Shawn, is living in England makes everything a bit complicated. A lot of things have to be organized before we can start recording a new track in the studio.
And you can also expect a new Basic Punch (Bonzai records) and a new single for Paul Matthew – known from the singles Heaven and Rhythm of Flames (Antler Subway) – and it will be called What I like. It is created in cooperation with the people behind Ace of base and A-Teens. The official site is now online at www.paulmatthew.be.
7) What is the public you aim for with these different projects?
2 Black 4 U aims at a more adult dance public. 2 Black 4 U tries to bring the better dance music with a message or a story. That projects tries to add something to the pure dance.
With Oxyd we try to reach the largest record buying public – the 10 to 25 year old music loving people – or in other words, Oxyd brings hitparade music.
Sunrise targets on the english public, compare it maybe a bit with Chicane. And finally with Basic punch we target on the public who really likes hard beatmusic.
Paul Matthew is pop music.
With 2 Black 4 U and Oxyd we target on the real dance scene. In this case it's much more difficult to get airplay on the radios and that's offcourse a disadvantage. Belgian radio's almost don't promote dance music anymore not taking into account some exceptions such as TopRadio, C-Dance, … but they are relatively small.
An advantage is that in case you make real dance music, you can be picked up by some DJ's and so you can score a hit from within the dance scene. A good example of this is the huge hit Poco loco
2 Black 4 U tried it first in a different way: So right was not a real dance single. It was more middle of the road with very good lyrics. A nice melody but no real dance, also the same story holds for Stormy Weather.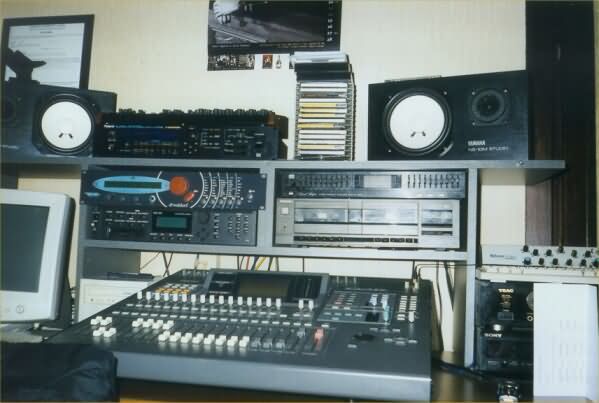 The home studio of Fred Vandermast
8) Do you like to break through internationally or is Belgium big enough for you?
If it's possible to go international – yes, please! A larger public, more challenges and more advantages and recognition. But Belgium will always be important. We would like to score in Belgium also and we don't exclude foreign countries. By the way, 2 Black 4 U is doing very well in Spain at the moment. So Right, Stormy Weather and Am I losing you scored very well over there. The new single has been exclusively released in Spain. Apparently Spain appreciates belgian music.
9) Did you already plan a lot of performances ?
For 2 Black 4 U several performances have been planned already up till august. But there are still a lot of days we are available!
10) And you are still amusing yourself?
We always amuse ourselves from the first minute till the last. We all get along very well, we make a lot of fun and that's very important I think. And people also notice that when we perform on stage. We hope that we can build up a very strong live reputation.
We try to do everything ourselves. We don't want to be a marketing product such as Vanda Vanda. Our motto is: what we do ourselves is maybe not better, but we did it at least ourselves.
11) Is the belgian dance music enough supported in Belgium by the media such as radio and TV?
I think the radios hardly support Belgian dance, only a few projects get airplay. All you hear on the radio nowadays is RnB and we belgians don't make RnB. Is it normal that people such as Ian Van Dahl score huge hits in the UK and they never got airplay in Belgium before they scored over there ? We have talent here in Belgium, but if we don't get support of radios, we are breaking our music business.
Concerning TV: TMF brings more belgian music and projects than JimTV does, but unfortunately you need a video clip to get advantages out of this and that costs a lot of money. It's almost imposible for a starting talent and it is only interesting if you also have signed contracts in foreign countries.
12) What are your favourite websites?
Well, we regurarly visit www.dancevibes.be, www.musicitems.be, www.showbizzsite.be and www.partypatrol.be … and sites showing the belgian UltraTop charts.
Welcome !
to DanceVibes, the site dedicated to belgian electronic music. We bring you daily updates on all that is happening in the dance scene.
more about dancevibes.be
Archives
Not so fresh news: